It's so hard to believe this, but I've been a Stampin' Up demonstrator for 11 years! I could not have imagined how much my life would have been impacted over a decade ago when I first filled out the paperwork.
I was reading the back story of the newest Million Dollar Achiever in our company (they've sold a million dollars worth of product since they first started as a demonstrator) and it made me want to go back and re-read some of the other achiever's stories. It's amazing how many different reasons there are for joining, and all the different ways each of these demonstrators have been successful. But what stood out in almost every story I read (there have been 18 demonstrators worldwide that have reached this milestone) is that each person identified the relationships they had formed as one of the most treasured parts of their journey.
I can totally relate to that. I have over 650 friends on Facebook. I don't say that to brag. I'm just illustrating a point. Without actually going in there to count, I would be willing to bet that well over half of those people are beautiful souls I met over stamping. What is the most amazing to me is that even though I may only see some of these people once or twice a year, we have a true friendship thanks to our shared love of stamping and crafting. And they've become an extended family that has helped me through some of the toughest days of my life, including the loss of my Mom five years ago.
I didn't share a lot of the story about my Mom being ill when it happened. I was too busy trying to get her better and spending as much time with her as I could. But once she passed, I felt I needed to
share the news
with my "tribe" just so they would know why I was "off," or why I might be MIA for a bit.
Just two weeks after my Mom passed I realized I was just under $2,000 away from earning my very first incentive trip with Stampin' Up. It was a smaller getaway trip to Hilton Head, South Carolina. I didn't have the energy in me to throw together an event or class. So I put out a little email saying that I was close, and asking if anyone needed to order any "staple" crafting items so that I could reach this goal. I honestly, didn't think I would do it. I just threw it out there as a last ditch effort. At that time in my career, I was happy if I made $1,000 in sales in a month never mind almost double that in just 2 weeks.
But, my friends, this is where I first saw the power of the relationships I had been forming over the previous six years. Seriously, crafters are some of the most thoughtful and generous people I know (and if you're reading this, you probably are too!). Well, I had customers order $100 and $200 worth of product just to help me get there. I even had members of my team place orders with ME (when they could have ordered through themselves with a discount!). Thanks to the generosity of those amazing customers and Shore Stampers, I earned that trip. I can't tell you how grateful I was to have that getaway that year. It had been such a difficult year (my Mom got sick in February and died in June) that I needed the rest and solace.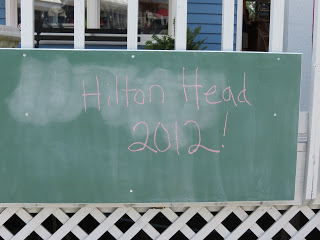 I threw a little Hilton Head appreciation party that year to thank all my valued customers and team members, but it honestly didn't seem like enough. It made such a huge, huge impact on me. It made me more committed than ever to serve my customers and my team to the best of my ability. And I've never looked back.
It was then that I discovered this company is so much more than ink and stamps. I've been impacted not only by the friendships with my customers and team members, but also with other demonstrators across the globe, and the amazing team of people at the Stampin' Up home office. These folks genuinely care about their demonstrators (I have stories, but that will have to be another day).
If you love to paper craft and love Stampin' Up product as much as I do, you may want to consider purchasing the starter kit to see what type of impact this company can have in your life. I started just to get a discount on my wedding invitation supplies and now run this as my full-time job. It can be a lot of work, but what other job requires you to make pretty things and then help others make it, too (while making money at the same time)? And we impact not only the people we teach, but also the people that receive our beautiful creations (have you ever received a thank you email or text for your thank you card? I do. All. the. time.). We all need a creative escape from life sometimes. And it'is so amazing to be able to help other people have that escape — even if it's only for a few hours in class.
If you want to help people unleash their creativity (and earn some money and a discount!) you may want to consider joining us. In July (that's tomorrow!), this amazing opportunity is even better than ever. You can purchase the starter kit for just $99 plus tax (free shipping!), and select $125 worth of product of YOUR choice (did I tell you we have a
brand new catalog
)? PLUS, Stampin' Up is adding on a special Essentials Gift Pack (a $72 value!) for FREE. That's $197 worth of product for just $99 plus tax! Here are the items included in your Essentials Gift Pack
(2) Size "D" clear stamping blocks (one for you and one for a friend!)
A pad of Grid Sheet table sheets (to protect your table surface)
Paper Snips Scissors (the best scissors around!)
Snail Adhesive
A bone folder (to get a nice, crisp crease on your cards)
And a brand new holiday stamp set called Carols of Christmas (you can see it below)
There are so many other perks and advantages to being a part of this amazing company, but I've already babbled on enough here. I hope you can tell that this is 100% authentic. I love this company emphatically. Please feel free to email me if you have questions or need more information (hit the "contact me" bar in the sidebar of this blog post).
And if you are like me and think this is a great opportunity (and there really is no obligation), you can click
HERE
to sign-up (just make sure you wait until July 1!). I'm 100% positive you won't regret it.
xoxo
Jen