Hello there! Sorry I've been MIA lately. Do you ever have so many things on your "to do" list that the only thing you can manage to do is hide? That's sort of how I've been feeling these days. Plus I'm still struggling with this and pretty much questioning all of my "usual" routine things.
Me: Maybe I don't want to be a night person — maybe I want to be a morning person. Maybe I don't want to work outside the home… maybe I want to focus my creativity on a house renovation or maybe I'd rather work on planning a really fun NEW trip — maybe I want to do both. Maybe I'll just go to bed.
Yup. That's pretty much how things are going in my head these days. Oh, and I have the attention span of a gnat. Seriously, like two minutes tops. It really makes accomplishing things like reading a book, creating a scrapbook page, writing an e-mail … or a blog post! … very difficult.
But, here I am. And I don't want to be a Debbie Downer so I will share some creativity with you today… albeit old creativity. A blast from the past so to say. Stampin' Up has released the retired lists for the 2012-2013 Idea Book and Catalog so I thought I'd share with you a couple of my favorite cards made with now retiring stamp sets. First there's this one: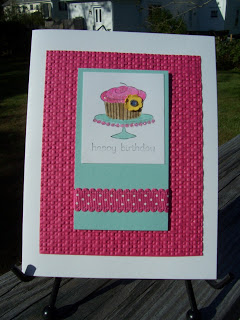 This is a fun and bright sample for the gorgeous weather we've been having. It uses the stamp set called Easy Events. This is a great stamp set for card makers with eight images with matching sentiments. This card is pretty simple, but cute. I'd like to think it would brighten someones day should they get it in the mail. Heck, if I get anything in the mail that's not a bill that makes my day!!
Here's another oldie, but goodie: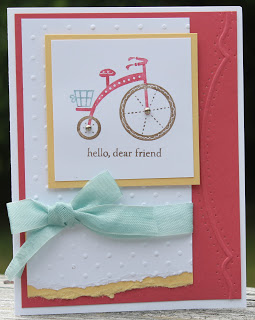 I loved the Ronald McDonald House charity stamp this year (a portion of each set sold goes to the Ronald McDonald House), Moving Forward. That stamp retires each year and a new one if revealed that raises money year-round for another whole catalog period. This one also features the Baja Breeze seam binding, which is a ribbon on the While Supplies Last retiring accessories list — that list changes daily so you'll really need to go to my online store to see what's still available. But act quickly on those items because with some of them up to 60% off they go quickly!!
How about you do you have a favorite stamp set from the retring list that you are sad to see go? One of my "sad to see go" stamp sets is Tiny Tags. Love, love love that set and the matching Jewelry tag punch.
Anyway, all good things must end… the good news? We have a brand spanking new catalog just around the corner! If you are local (Cape Cod), be sure to mark your calendar for the evening of June 1 when I'll have my new catalog launch party. Free catalogs (with an RSVP), games, prizes and make and takes for all!