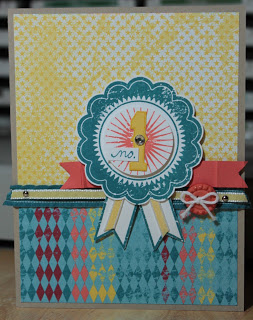 Hi there! I thought I'd share with you a card I did as a custom order for a friend.
I used the World Spectacular Suite of products including the Designer Series Paper, Blue Ribbon Stamp Set and Island Indigo ruffled ribbon. (Ok.. so this ribbon isn't technically part of this suite — but it coordinates so well with it!)
I love the few extra details in this card… the layered ribbons, the "popped up" blue ribbon, the rhinestone bling. When I set my mind to really making masterpiece — it always comes down to layers for me… I love that I can pull a pile of SU products together in such a cohesive manner because everything coordinates. It makes creating so easy… and so, so fun.
What's funny is this suite was not one of my favorite when the new catalog first came out (I was more of a Floral District of Fan Fair Fan… ha! no pun intended!) But once I started playing with this and thinking outside of the "circus" theme I really like this suite, too.
It's so hard to believe in just a few more months we'll have a brand new catalog to "drool" over. I have to get in all my "playing" with this year's goodies so I can make lots of room for new stuff in May and June!
So how about you… do you have a favorite suite from the 2012-2013 Idea Book & Catalog?