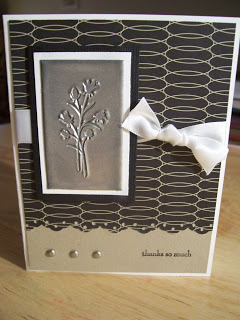 OK… this is a first… two posts in one day (I have yet to go to bed since the last post)! I forgot to post the crafty sample that I wanted to share today! (I must have been overwhelmed by the sudden appearance of the sun!)
Here is a card I made using the retiring Urban Oasis Designer Series Paper and the Faux Metal technique.
Here's how it works:
*I cut the paper that I wanted to stamp onto to the size of the stamp (2″ X 3″)
*Then you want to cover the entire piece of cardstock with versamark ink (I bring the ink pad directly to the cardstock)
*Sprinkle the now tacky cardstock with Stampin' Up Silver Embossing Powder and tap off excess in the powder pal
* Heat with heat gun and let cardstock cool.
* You'll want to repeat that process again three more times (versamark, embossing powder & heat) and after the fourth time, while the embossing powder is still hot, plunge your stamp of choice into the hot embossing powder to create the impression.
This is a really fun technique and is great for embellishments on cards and on scrapbook pages. Here's a closeup of the faux metal embellishment on this card:
That's all for now….