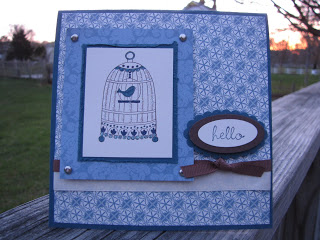 Hi there! Remember me? I apologize for being so out of touch lately. Do you ever find that once you get out of the routine of something it is so hard to get back into it? Well, that is what happened here with the little blog. I kept saying "I'm going to update, I'm going to update," but it just never happened.
So even though I don't have anything really new to share with you today, I decided to post anyway.
This card is actually one I made months ago. Nothing too spectacular, but I think it came out cute. I was playing with the Chic Boutique stamp set — too cute.
I do have lots of news for you, though. As you know we are now into the six month of the year (crazy, huh?) and that means the Stampin' Up last chance list is out. You can check it out here. You have until June 30 to get any of the stamps sets off this list and then they are gone forever.
There are also last chance lists for the decor elements and for retiring accessories. You can see those here and here. Don't panic with those lists though — they are both very long, but can be deceiving. The decor elements list is long because it has to list each retiring element in every color and every size, which means there may be as many as 12 entries for just one image.
As for the retiring accessories list… this is also very long, but a lot of this is because of the color renovation. Anything in one of the 31 retiring colors is on that list so that means ink pads, refills, cardstock, brads, ribbon, markers, buttons… etc. etc. Also, all of our punches are on the list, but that is only because most of them are being reconfigured to the new style — so they'll still be in the new catalog, but they'll just be in a new format.
Also, for those of you who have hosted a workshop with me in the past year (July 2009 – June 2010), watch your mailbox for a special invitation. I hope to have them all out by the end of the week.
Lastly, I got the brand new 2010-2011 catalog and Oh. My. Word. I was squealing on the couch as I looked at it! There's lots of great new stamp sets and the accessories… fabulous! I can't wait to order on July 1.
I did get to pre-order some of the new goodies and I hope to be able to play a bit later this week and give you a few sneak peeks here on the little blog — so check back soon. (I promise I won't disappear for a month again!)
Thanks for stopping by!