Hey everyone…
So… to help me get out of my scrapbooking rut lately I decided to do something I've never done before — participate in an online, 6-week scrapping contest! This week is the first voting session and there are 14 entries and only 12 will survive.
I'm new to the board so I'm not sure if I'll get a lot of votes, but I'd thought I'd appeal to some of my scrappy friends :o)
So if your interested in keeping a girls' spirit up (wink, wink) head on over to the Last Scrapper Standing forum at Memorable Seasons and vote for three of your favorite layouts. Of course, only vote for mine if you think it is one of the best, but I am Jeno44. You can see the layout below….
Thanks for your support!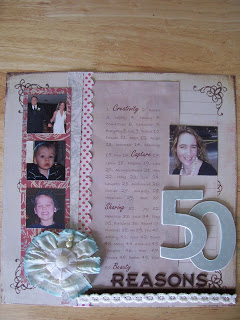 The assignment was to create a page around the them "why I scrap". The journaling reads: 1. Creativity 2. release 3. legacy 4. family 5. connections 6. remember 7. everyday 8. life 9. tribute 10. friends 11. paper 12. accept 13. document 14. challenge 15. fun 16. capture 17. learn 18. preserve 19. love. 20. accomplishment 21. new 22. make 23. live 24. laughter 25. fulfillment 26. cherish 27. simplify 28. happiness 29. shop 30. sharing 31. joy 32. heartache 33. voice 34. play 35. blessings 36. record 37. moments 38. me 39. you 40. artistry 41. color 42. bling 43. messy 44. organize 45. thoughts 46. heal 47. thanks 48. babies 49. time 50. beauty