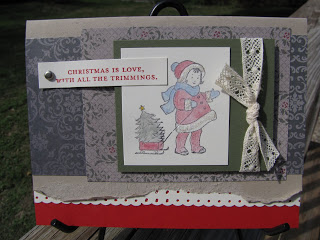 I'm loving the vintage trend that is popular in the papercrafting industry right now. The lace, the subtle colors and old school feel of the products are fabulous.
I made this card using the new Greeting Card Kids stamp set from the
2010-2011 Stampin' Up Idea Book & Catalog
. It's the same set I used to make a Halloween card recently as well. For those of you on my e-newsletter list, you saw the Halloween card in the newsletter.
On this card I used my blender pens and ink from my ink pad cover (squeeze the ink pad while it is closed and it will leave a little "puddle" of ink you can pick up with the blender pens). I love how it gave the card a softer look than using straight markers.
I also love the new paper ribbon punch (the scallop edge under the torn piece of crumb cake cardstock). It is so fun — You can use it as a tiny scallop underneath another piece of cardstock or use it as a strip of "ribbon"…. so fun.
Well that is all for now… I've got LOTS of stuff going on in the coming months so be sure to check back often. If you'd like to have a copy of the brand new
Holiday Mini Catalog
, feel free to
e-mail
me and I'll send one out to you.
Thanks so much for stopping by…