Hello my friends! Sorry I've been MIA for a couple of days. I've all of a sudden got into this mode of wanting to do nine million things at once! Well it's a combination of wanting and needing to do that many things at once!
I decided earlier this week after reading Krista Hannah's blog entry about redoing her Kraft Haven, that I wanted to do a scrapbook room overhaul, too. So I've started thinking about that and began a rather large photo organization project this week (I'll show you pictures in my next post). I also have a class to teach tomorrow at the Harwich Council on Aging, a rendez-vous with a long lost friend tomorrow morning, swaps that are WAY over due (they are supposed to go out July 1) and a workshop to plan for next week… Oh and we're leaving for Vegas in two weeks so I have to get ahead of the game at work and actually write some stories to run in the paper while I'm away!
Whew, I'm tired already! lol! Anyway I thought I would share my long-overdue swap for my convention buddies from last year (I'm having a bit of withdrawal that I won't be going this year — although being in Vegas will help remedy that problem!)
Here is the swap card I did. It is rather simple. The theme was a summer card so I used Crushed Curry and Melon Mambo with the Tart and Tangy stamp set. It's fairly straightforward in what I did — no fancy techniques except (you probably can't see it in the picture) I used crystal effects on the popped-up lemon to give it a little dimension. I love doing that!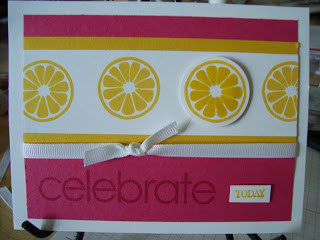 Rather simple, but I like it.
So if you've ever considered becoming a demonstrator, now is the time to do it! Remember, just because you become a demonstrator doesn't mean you have to hold workshops and classes! You can join just for the discount! As a demonstrator I get 20% off everything I order including big ticket items like the Big Shot! PLUS we get to pre-order new product releases usually at least a month before our customers! So as of August 1, I get to order out of the new FANTASTIC holiday mini-catalog (scroll down to this post to ready a little about what's inside that catalog!) and begin playing with all my goodies before my customers even see the catalog!
In addition, Stampin' Up is offering two great options for new demonstrators right now!

OPTION 1: If you already have a lot of Stampin' Up product OR you just really love the new In Colors and don't plan to host workshops or events, you can purchase the new mini-starter kit for just $85! You still get all the benefits as a regular demonstrator (discount, free monthly magazine, demonstrator training site with free patterns and templates and the ability to pre-order new merchandise!) and here is what you get in the kit:
* For All you Do Stamp Set, $28.95 value (page 118 in the catalog)
* All SIX new In Color Ink Pads, $35,70 value
* 8.5 X 11 package of whisper white cardstock, $7.50 value
* 8.5 X 11 package of assorted In Color cardstock, $7.95 value
* All the regular business supplies that come in the standard starter kit, over a $60 value
OPTION 2: If you don't already have a lot of Stampin' Up supplies or are really looking to make this a business adventure and earn some extra money either to support the household OR your habit (wink, wink — that was me three years ago!) you can still purchase the standard demonstrator kit for $199 and you will receive in addition to the over $350 worth of stamping and business supplies, you will also get all six new In Color ink pads and a package of 8.5 X 11 In Color Cardsotck — an additional $43.65 worth of product — putting the value of the starter kit over $400 for just $199!
As a new demonstrator, you'll also get an extra 10 percent off (for a total of 30% discount) your first workshop order — and remember this doesn't actually have to be a workshop! It can be your own personal order or a bunch of orders you collect from friends and family and YOU receive the hostess benefits and the 30% commission!
Sounds fun, right? Who doesn't love free stamps — especially new ones!! lol! If you have questions please feel free to call (508) 432-2278 or email me, I'm always happy to help!
If you are ready to get started right away, jump on over to my website and sign-up online! (I tried to insert a link here, but my computer is not cooperating!! So head to www.jenpitta.stampinup.net and click on the "Start Your Own Business" Tab) You'll have your demonstrator id and access to the demonstrator website in usually a matter of hours! Just use the password "pitta padders" when signing up.
You'll love being a member of the Pitta Padders — we have group meetings with swaps and hobby and business shares, the newly implemented annual Pitta Padders auction (only for my downline), plus a ton of other events each year like shoebox swaps and discounts on some of my classes and events!
And the best part is, if you decide it's not for you…. that's it — you keep everything you have and continue stamping! You have nothing to lose!