It's funny because I can't believe it is already October and yet in the same sentence I want to say how can it only be October? I've already designed 10 different holiday cards for this year's Christmas Card sessions (five in August and five in September). Even with that said, I have 10 more designs headed your way — five more on the last Tuesday of October and then five more designs in November, too! For my customers that attend all four sessions, they will have made 40 cards by December 1! How's that for being ahead of the game?
Would you like to see a couple of designs from my last class? I figured I would show you at least two since I've been MIA recently. Sound fair? Here's the first design I came up with for the September class: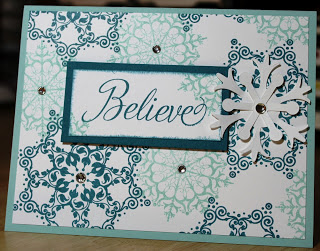 I like to have at least one "non-traditional" colors for the holiday. This one uses Pool Party and Island Indigo. I think they are the perfect colors for snowflakes. The stamp set is Snowflake Soiree from the Holiday catalog and I absolutely love it because it's one of those stamp sets you just can't go wrong with — especially went you create your own patterned paper like I did here.
This is another design we made at my last card class: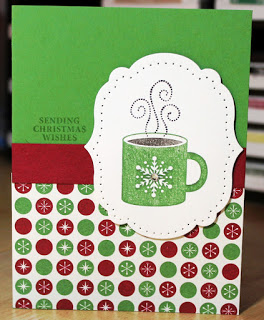 This one uses fun Gumball Green and Cherry Cobbler cardstock. The coloring is a little off in the picture, but it is a great "traditional" option for the holidays. This stamp set is called Scentsational Seasons and is perfect with scented embossing powders. I also wanted to show you this card today because it shows off the holiday paper piercing pack from the Holiday catalog. You can get the festive paper piercing pack for free when you purchase the Ornament Keepsakes bundle (the ornament keepsakes stamp set and the Candlelight Designer Series paper). How cool is that?
Well, I'm off to try and find my stamp room under all of this paper and stamps. Somehow I've had a small tornado roll through my room….
If you'd like to order any of the products I used in my projects please visit my online store anytime day or night!