Hello there… Welcome to Top Five Tuesday! This week I thought I'd share with you some of my favorite card making tools.
Big Shot – Right out of the gate I have to start with my beloved Big Shot. While this machine is wonderful for all of it's nifty possibilities — one of my absolute favorites for card making is embossing with the textured impression embossing folders. Exhibit A: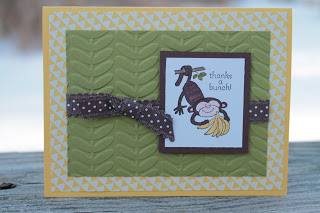 This adorable little monkey card wouldn't be half as cute without that fun vine-embossed old olive cardstock, now would it? (speaking of that… this is the last week you can earn the vine embossing folder for FREE with a $50 order — a Sale-A-Bration bonus!)
Punches – I absolutely love Stampin' Up punches. They are a must for any card, but take this sample — all of the layering was made so, so easy and impressive thanks to all of our circle punches. Love that!
Ribbon Scissors – I know this seems silly, but these truly are THE BEST scissors for cutting ribbon and what card is finished without ribbon?? Seriously, they are a must have, but keep them away from paper — these scissors and paper don't get along… like oil and water people. (OK so I just noticed when I went to link these little scissors that they are called Craft & Paper scissors — it just must be my OCD that doesn't want them used for paper — or it could be the voice of my Mom in my head — she had a pair of scissors like these that she was always chasing me around telling me not to use them for paper! Got it, Mom. That is successfully drilled into my head 🙂
Color Spritzer – this is an oldie, but oh so beautiful on vintage-y style cards. Just slide your favorite Stampin' Write marker into the marker barrel, take off the marker cover and squeeze until your heart's content. Close up make a larger impact — further away gives it just a minor speckle. So fun and oh so addictive!
Stampin' Dimensionals – if you have ever taken a class with me, then you know that I cannot… I mean can. not. make a card without a bunch of these little helpers. They just add an extra little lift (ha ha pun intended!) to everything. Seriously… run to the store and scoop up one, two or ten packages of these little beauties… you won't regret it!
There you are… there are five of my favorite card-making tools. Now, do tell. What do you have to have when you are card making? Share in the comments below — inquiring minds want to know!