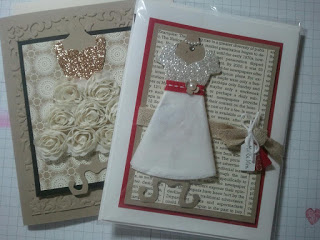 I thought today I would list some of my favorite retiring stamp sets on the 2012-2013 Retired Stamps and Accessories lists. There's still about three weeks left to get items from these lists (although accessories are while supplies last so be sure to order anything from that list ASAP!).
Be sure to read through to the end as well as I have a special offer for online orders this week!
1. Tiny Tags – My absolute favorite set that is retiring this year is the Tiny Tags stamp set. It's not really a set that stands on its own real well, but I am going to be absolutely lost without it! In fact, I audibly gasped when I saw it on the list this year. It will be tough. I actually used it on the card above — now don't panic the dress forms are staying, but see the three cute little tabs to the right on the top card — those are made using the Tiny Tags stamp set and the equally awesome jewelry tag punch. Sigh.
2. Another one I'm pretty sad about is Easy Events. This is such a great set for new card makers. It has the cutest images paired with sweet sentiments. It makes making the perfect card a cinch. It reminds me a bit of the first stamp set I ever bought, which was called greetings galore and it was the same type of thing — images paired with sentiments. Really makes for a no-brainer when you sit down to make a stack of cards.
3. Just Believe – This is one of those sets that doesn't look like much until you start to play with it. It makes beautiful sympathy, friendship, birthday cards – you name it. But it's also great for borders or stamped accents for scrapbook pages (and the "Some things have to be believed to be seen" sentiment is a great title as well — think Christmas!). Be sure to check this set out before it's gone for good! Here is a picture of a card I made with a quite a while back:
Isin't it pretty? Some of the colors are retiring, too (Baja Breeze) so not all of the items on this card may still be available, but I thought it was a pretty card — and simple!
4. Next up is Aviary — this stamp set is so stinkin' cute and I waited so long to get it that I didn't get to play with it for long! I love the mix and match nature of this set — you get to pick what size bird cage you want, what size and type of bird you want in it — it's super fun. Kind of like paper dolls for birds!
5. Last, but certainly not least (and certainly not the complete list of stamps I'm sad to see go!) is Word Play. This stamp set is so perfect for scrapbookers. Almost ever sentiment could be used as a title and again, they're also great for cards. In fact, because they are "heftier" images some of them can even be used as a focal point on a card where most sentiment stamps can't because they are too small and get lost. I love this set — particularly the "happy I do day" and the "wish big."
Now… onto my offer for the next week. Each time I go to a Stampin' Up event I collect "swap" cards from other demonstrators. They are basically just the front of a card, but feature all sorts of products and ideas. Well, now I have many that highlight retiring merchandise. So for the next week, anyone who places and online order and uses this hotess code BNCHGXSV (The hostess code goes in a box to the left BEFORE you head to the check out — don't miss it as only orders with this code will be qualified for the specials!) will receive five free swap cards from my stash, a thank you card using some of my favorite new In Colors for 2013-14 AND be entered to win free hostess benefits (if the total amount of orders reaches $150. So head to my website now and stock up on all your favorites before they're gone for good!!
Thanks so much for visiting!!