Let me first start this post by saying "thanks" to you for showing up here on this sad, neglected blog. It has been a long time since I have visited, even though I've been thinking about revamping it for well over a year!
Anyway, I thought I'd share a few "crafty" ways to say thanks to those people in your life that always seem to go above and beyond.
Idea #1 is Treat Them to some Coffee. Of course, you'll want to present it in a fun way. Check out THIS By the Shore Stamping YouTube tutorial for a really fun (and easy!) gift card holder featuring the Merry Moose bundle (which is still available!). You could pair it with the Plaid Tidings Designer series paper for a very similar look.
Merry Moose Three Panel Gift Card Holder
Another great way to say "thanks" is a little treat box filled with goodies:
I'll be doing a You Tube video on how to make these super cute boxes real soon — so head on over to my You Tube Channel and subscribe so you don't miss it!
The third way to say "thanks" in a "crafty" way is, of course, A CARD! This month for my Stamp Club, I created an additional design featuring the Love of Leaves stamp set and hand-stamped each person a thank you card – just to let them know how much I appreciate their support.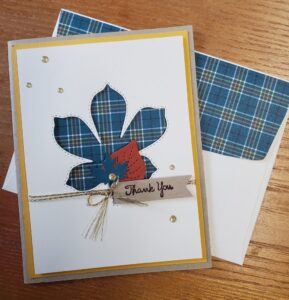 And here's a sneak peek at the cards participants got to make for Stamp Club:
These were truly some of my favorite cards this year, although they were quite a chore to prepare! If you want to know more about Stamp Club, make sure you are on my mailing list so that you get notification of all my future classes and events. My next Stamp Club will be announced on October 15th. You can join my email list HERE.
Thanks so much for visiting my blog today. I plan to post two times a week so bookmark this site (again!), and I'll see you real soon.
xoxo,