Phew! What an amazing (albeit tiring!) weekend. I held my sixth Cape Cod Creative Escape crafting retreat this past weekend and it was a fantastically fun time! We had lots of new friends join us this year so that was super exciting. Everyone seemed to have a great time so I thought I'd share some highlights with you.
Many folks arrive on Thursday night (especially those that were traveling far from home — we had New York and Connecticut in the house!). So everyone gets settled in their space and set up for four days of focused creativity. This was the room at the height of the weekend — jammed packed with any possible tool you could think of!
These girls are serious! We had a full house with 60 ladies joining us. We started by giving the attendees a welcome gift made out of the Stampin' Up Glassine bags, embossed with the Cable Knit sweater embossing folder. Then tied with ribbon and stamped with the adorable reindeer from the Cookie Cutter Christmas bundle. This little cutie was designed by our endlessly crafty team member Linda Johnson.
Here you can see the whole lot of them at the registration table as I awaited for all my friends to arrive.
We had all the tables decorated with a little Charlie Brown Christmas tree and each attendee's holiday stocking stuffed with brand new Stampin' Up goodies that they used on their five free make and takes.
Here's a picture of the tables:
And a close-up of the cute little stockings:
I was in a total panic because five days before the event I still hadn't found the right stocking yet (most of them were too cheap looking), but I finally found these cuties at Target. They were filled with 6 x 8 cello bags, Gold Natural Ribbon, Christmas Trinkets embellishments, a package of Stampin' Dimensionals, a package of metallic enamel dots, the Cherry Cobbler/Garden Green marker duo, and a package of the gold and silver doilies. We also wrapped the Warmth & Cheer 6 x 6 paper stack and left that at each seat.
Two of the five free make and takes are actually "make in your seats," so we provide all the materials for them to create them on their own right in their registration packet.
These were the two "make in your seat" projects.
The tag was designed by yours truly and my fantastically creative friend (and team member!) Sherry Prada of Scrap Right Meow designed the 6 x 6 scrapbook page.
Here are the other three make and takes that we did "live" with each attendee. The little teabag/chocolate holder was designed by the one and only Anna Keyes of Little Bay Stampin', another Shore Stamper with an impeccable eye for design! The holiday card was yet another creation of Linda and the M & M treat bag was by me.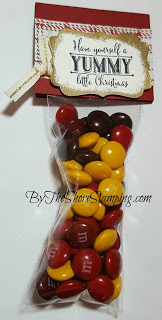 Here is Anna teaching one of the Make & Take sessions:
Lots of busy crafters! We also had pillow gifts each day. Here are those…
Pillow Gifts 2-6 (The glassine bag – which was filled with animal crackers, by the way – was the first pillow gift):
The presentation of the last pillow gift was different this year. Usually the pillow gift fairy just places each gift on the tables. But I had been playing with my new Instax Mini camera all weekend and decided to surprise everyone.
Below you'll see the Christmas tree as we had it set up all weekend.
This year, because of the fabulous Buy 3, Get 1 free special in October, I was able to get EVERYONE a free package of either Designer Series paper OR a collection of 12 x 12 cardstock. However, we gave away all those presents by Saturday night so the pillow fairy needed to get crafty!
Check out the tree on Sunday morning when the ladies returned to the craft room for their final day:
Me and my adorable niece Heather stayed up until almost 3 in the morning getting this tree all decorated (Thankfully we had an early-to-bed crowd!). It was so much fun, we actually considered staying up all night so we could see everyone's wide-eyed faces when they arrived. We quickly decided that probably wasn't the best idea and snuck off to our hotel room to catch a little sleep.
Of course any weekend full of craftiness (and lack of sleep) is bound for some silliness… this was me wondering why they make the peep holes in hotel rooms so high up — clearly not designed for shorties like me!!
I was jumping up and down saying whose out there and it just started a bit of giggle fit with me and my niece… and later a discussion about how Heather sounded like she was "wrestling a dragon" as she tried to get comfortable one night caused yet another uncontrollable fit of laugher. You know how you get when you are lacking sleep and everything seems so hysterical… yeah. That.
And just a few more candid shots:
Okay… I think it will be another early to bed night for me… thanks for sticking through this long post. See you again soon when I start recovering from my sleep deprivation. 🙂