I had such a great day yesterday. It was my annual hostess appreciation day — but this year I called it my Hilton Head Appreciation event as the support of all my customers allowed me to take a FREE trip to Hilton Head, South Carolina in September!
I had so much fun spoiling all my hostesses and downline members. It was exhausting, but so worth it! I had displays of all my card swaps from Convention, Regional and the organized Hilton Head swap that I participated in.
There were balloons to pop for any orders (they were not required to order anything, though!) — inside the balloon were coupons for things like free shipping, a free ink pad or no sales tax. These delicious chocolate covered pretzels decorated with the Friendship Preserved stamp set were the gift that I made for each attendee and we had Beautiful Booking Boxes (I feel like that should be part of the Berenstain Bears "B" book — did you ever read that as a kid?? I digress…) for anyone who wanted to host a private class of their own. These were one of the box styles I created, but I forgot to take a picture of the other one before the girls scooped them up!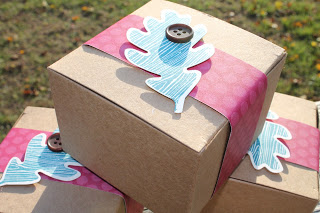 Inside the boxes were a little embellishment of some sort they got to take with them and then a coupon for a bigger gift they can redeem at their party — free stamp set, big shot item, DSP, etc.
We also had a fun make and take. My theme as you can see was fall – so I thought a great "thankful" project would be a gratitude mini album. A few months ago in the Stampin' Success magazine that Stampin' Up sends to its demonstrators there was a travel mini album made out of kraft envelopes. I thought it was so cute (and clever) that I created my own, but turned it into a gratitude album. I want to do another one of these, too, but make it a Christmas album – won't that be fun? I'm going to teach it at the Crazy for Croppin' event in Hyannis the first weekend of November… that will be fun! Here is the gratitude album the girls got to make:
It's made with four envelopes. I tore off the flap on each one and inserted a piece of vanilla cardstock inside the envelope for journaling or pictures. Each little ribbon was attached to one of those journaling/picture cards.
The front of the journal and the booking boxes feature the "Wonderfall" stamp set from the Holiday catalog. I also used the Orchard Harvest Designer Series Paper and the Autumn Accents Bigz Die for the Big Shot, which are also from the Holiday catalog. All super fun toys!
Here are a couple more pages from the album: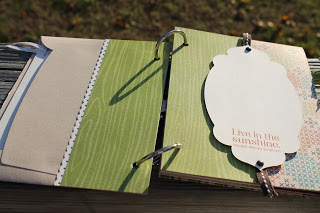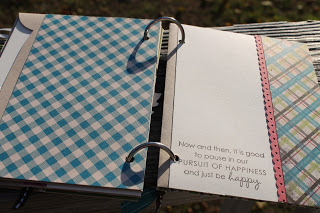 I'll show you one more thing from my Hilton Head Appreciation event… this was the invitation I made with My Digital Studio and sent to 50 of my hostesses, downline members and VIP customers:
Well that is it for me today… thanks for stopping in and run on over to
my website
if you want to score some of these products for yourself. Oh, and the
Clearance Rack
on the website has been updated with 70 new items so you'll want to act fast on those, too!
Until next time…