I have a confession today. I hoard stamp sets. Like lots of them. And there's nothing wrong with that (and I'm sure many of you likely do the same thing!). So today I wanted to share with you a fun way to get lots of mileage out of your stamp sets — particularly if you are a scrapbooker!
Today's post actually goes along with my Teach Me Tuesday video from today. So maybe you should check that out first. Go ahead… go watch now. I'll wait here.
Did that give you some ideas? I hope so. Scrapbooking with stamps has so many benefits… you always have the right color embellishment, you can make as many of a certain element as you need and you can use it over and over again and get different looks each time!
So I wanted to share the finished results with you here since the page wasn't quite finished in my video.
Here is the full 2-page spread: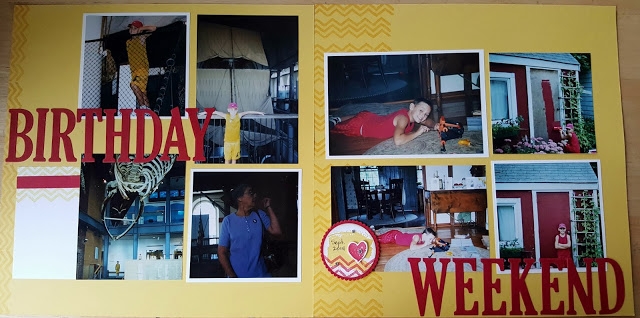 Here is the finished two-page spread. Now that it is all together, I think it might have been better if I did the chevron pattern on the right-hand side of the second page. Oh well. Done is better than perfect, right? Also, you'll notice I added a little journaling block to the left-hand page and I added the chevron pattern to that, too. Love the coordination! You can see a close-up of the journaling box below:
And here is the close-up of the embellishment I created in the video… except I did end up adding in a red scallop circle layer to add a bit more contrast. I also added some bling, because every page is more complete with a little bling (wink, wink)!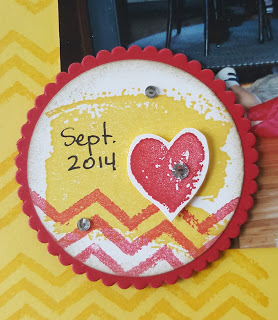 I hope you have been inspired to pull out those stamp sets! If you want a little more inspiration for scrapbooking with stamps, be sure to check out this post, and this one… oh, and this one, too!
Thanks so much for visiting. If you need some more stamps for your stash, you can shop online HERE. (hee hee)