Do you ever feel like you're on a hamster wheel and can't get off? That's how I've been feeling lately! Working for yourself is exhausting … wink, wink (well, and I've taken on a few other projects recently so that's added to the work load.)
Anyway, one of my favorite things to do to stop the crazy wheel from spinning in my head is to create something. Granted, when I first start the wheel (of unending thoughts) will keep distracting me, but eventually I get so involved with what I'm creating that all that other "stuff" stops, and that makes that stupid, squeaky wheel stop, too — for at least a moment.
Creativity truly does take up most of your brain space when you're actively in create mode — so it is a great solution when you're feeling overwhelmed with life. And I've got the perfect thing for you to try to test out this theory!
It's Tuesday, so as you know, that means it's time for another Teach Me Tuesday episode. Today, I'm showing you the Baby Wipe Stamp pad technique. This is a great way to get multiple colors on a stamped image without having to hand color them with your markers.
Here's some samples of today's technique: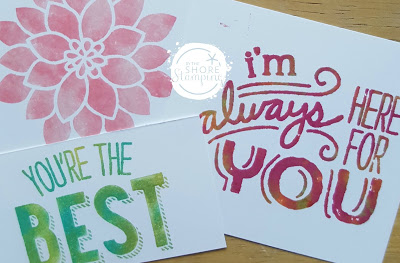 It creates this really cool "merged" color effect. Check out the video below and then let me know what you think! While you're over on YouTube, be sure to
subscribe to my channel
.
And here's a sample of the finished card using this technique. It uses the
Friendly Wishes
stamp set, which sadly is retiring at the end of this month. As of yesterday (May 22), all stamp sets are now on a "while supplies last" basis. So if you see anything you like, make sure you get it ASAP!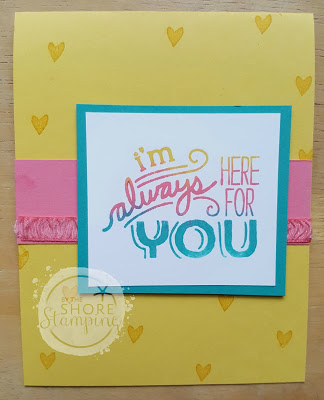 Until next time…
Keep Stampin' (it keeps the hamster wheel quiet)!