Well, hello there! Long time no chat. I figured now was as good a time as any to jump back in to this little ol' blog. So sorry for the absence.
I just returned from Stampin' Up's OnStage Live event in Salt Lake City and I'm feeling inspired to share. We were actually challenged to add one more event per month as part of our #6monthstampinggoals so I'm going to be updating my website with some new events. But for now I'm still plotting and planning! (said with my most evil voice and laugh!) Just kidding… there's nothing evil about stamping!
My first update to my calendar, though, will be a revision of my Stamp Club. It just hasn't been working the way I would like. First, the whole "club" thing tends to scare people off. So I'd like it to be something that is more of an "opt in" when the timing is right for YOU rather than a long committment! Also, I think Paper Pumpkin has us covered in the "surprise" department so I'm planning to give you a little more insider information about this monthly event. It will still be held live on the second Thursday of the month at my house in Harwich Port, BUT if you can't attend live there will be the option for you to get a "to go" option. More details about all this below… first I wanted to share a few photos/updates from my recent trip to Salt Lake City.
I actually got to celebrate my 10 year anniversary with Stampin' Up with a walk across stage… here I am walking with my friend Marion and then a photo of what it looks like from stage — there was a little over 1,200 people in attendance!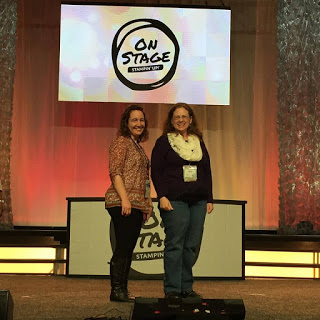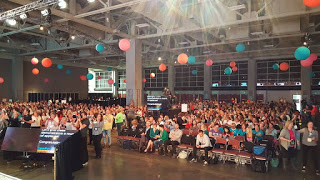 As a leader, I also got spoiled with a special Centerstage event before and after the general conference. The pre-event was a formal event with "mocktails" and appetizers to start and then a gourmet sit down meal with some fabulous dueling piano entertainment called the Jeff & Rhiannon Dueling Piano Show. They were fabulous and oh so funny. They played everything from opera to Metallica! It was truly impressive… especially their full-length rendition of Bohemian Rhapsody — such a long song and they did all the parts so, so well (and they had us sing along — and that is one of my favorite songs to sing — although, I generally only do that in the car! (hee hee)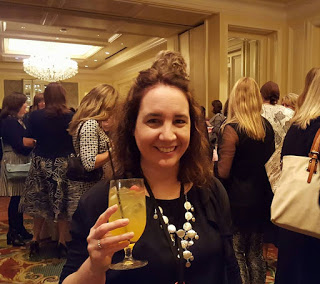 (I was so hungry I forgot to take pictures of the other three courses… I guess I was finally getting full by the time this beauty arrived so I remembered to take a photo! It was delish!)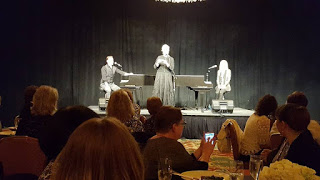 There were so many other great highlights of the OnStage event — like getting the brand new 2016-2017 Idea book and catalog! — but I've got other things to tell you about!
For starters, the retiring list for the current catalog is now available! You can find it
here
. Remember a lot of these items are on sale and while supplies last so be sure to check them out and order soon. If you'd rather browse the items in the online store (rather than as a list), you can find that
here
.
Finally, here is more details about my new Stamp of the Month Program:
April's featured set: By the Tide
Other inks needed: Real Red, Bermuda Bay & Crumb Cake (also a basic black)
Live event: This Thursday, April 21
Cost "to go:" $20 or just $8 (to help with shipping costs) if you purchase the stamp set and ink pads from me first
What is included in the "to go" version: Pre-cut supplies for four cards/projects including envelopes, written directions with pictures, a pillow gift and a hand-stamped thank you card featuring the By The Tide Stamp set.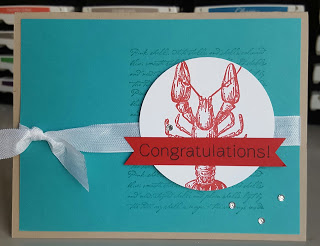 Stamp of the Month Q & A
Q: What if I already have that stamp set?
A: You can replace any of the ink pads or stamp sets with other items you need that total the same amount as that month's stamp set plus two ink pads (so a minimum of $33 for this first month). Or if you don't need anything else, you can just pay the $20 fee and I will send everything to you without a purchase.
Q: What is a pillow gift?
A: It's a hand-stamped thank you gift made especially for you and included in your to-go kit. (Live attendees will get this, too!)
Q: When do I have to order?
A: Because I generally cut at the last minute, all "to-go" orders must be received by 5 p.m. the night before the live event happens, so for April, that would be by 5 p.m. on Wednesday, April 20.
Q: Am I obligated to participate for multiple months?
A: Nope! That's the beauty of this one… you can participate in any or all months that appeal to you! The stamp set will be announced at the beginning of the month (or maybe even the end of the previous month) and you can decide if you want to get the kits that month — if so, just email me to let me know and place your order (or send your $20 fee).
Q: Should I use a Hostess code when I order online?
A: Yes! I plan to treat one "live" attendee and one "to-go" participant with a surprise gift each month as long as they use that month's hostess code… Plus, it also helps me know who is purchasing for the Stamp of the Month class. So for April, please use this code when placing your order: UXVRFJ2B
Okay… so I think that's enough babbling for one day! As always, let me know if you have any questions… you can reach me by emailing jen pitta at comcast dot net.
Till next time… happy stampin'!