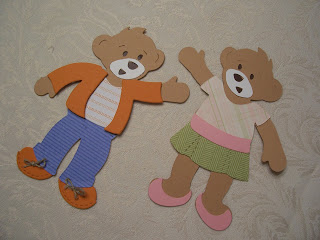 Hi there! Hope your week is off to a good start… I'm feeling a little behind trying to get caught up after a scrapbooking retreat this weekend.
I was a vendor at the Crazy For Croppin' event here on the Cape Thursday through Sunday and had a lot of fun.
I didn't, however, get much accomplished in the scrapbooking department! Oh well… it was still fun to teach a class and reconnect with some scrapping friends I only get to see twice a year.
I did manage to play with my new Build-A-Bear Big Shot dies and Pawsitively Prints Designer Series Paper. I made the two cuties above Friday. The dies are so very cute and they have so many different options!
I also played with the new Build-A-Bear stamp set called Beary Best Friends and the coordinating sentiment set called Beary Nice Wishes. I made these two cards as a make-and-take for the ladies at the event: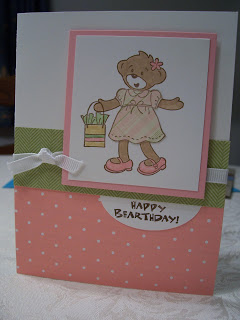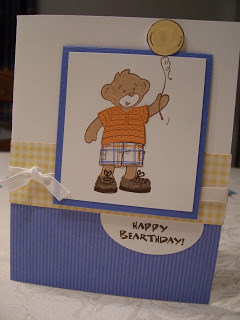 I need to finish the couple of scrapbook pages I did over the weekend before I post them here. I just need to add some journaling and titles to a couple of pages before they are ready to be posted.
Attending the event did put me in the mood to scrapbook as I listened to all the pages the ladies got done. One woman finished 69 pages over the weekend! I am a slow scrapper so the most I usually do at a weekend event like that is 12! Oh well… it's still fun no matter how many pages you complete.
For those of you who would like to attend a really fun Crop event, you should check out the Crop on the Cape, hosted by the fabulous Colorful Creations Scrapbooking store in Hyannis. I will be a vendor at this year's event and I'm so excited! The Crop takes place Thursday, March 25 through Sunday, March 28, 2009.
Click
here
to find out more.
Hope you have a great week and thanks for stopping by….