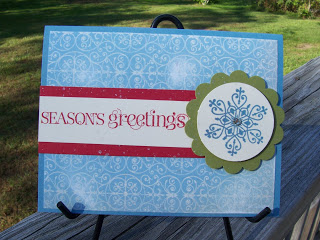 Hello. It's me, Jen. I used to blog here a long, long, long time ago!
I can't believe it has been four months since I've showed up here. Honestly, it's not because I didn't want to. I thought about it often, but felt too much pressure to keep coming back! 😉
While I'm not promising anything, I do want to have a more regular presence around here again. I miss my little blog… and my two or three readers. 😉
It's full-on holiday preparation time over here in crafty land. I've got two card classes this week, plus a make and take event. Then there's a holiday gift class and a bags & tags class before I take a break for a little while for the holiday. Don't worry though, I won't be stopping with the stamping. Come Dec. 1, I get to pre-order some fun new goodies from the new Occasions Mini Catalog and I plan to make all sorts of fun new things with my new toys — I first have to narrow down my wish list to a more reasonable amount! Not an uncommon problem for me these days… the new products Stampin' Up is coming out with is really making that a challenge!
Well, I can't spill any more details about that, but stay tuned. I planned to show some sneak peeks of what I'm working on through the holiday. Another big task on my list is the holiday cards — I'm not sure if I'm going to go traditional or perhaps make some fun digital cards using My Digital Studio — or perhaps a combination of both. While I'd love to make hand-stamped cards for everyone, the Christmas card list is getting a little intimidating — approaching the 300 mark!!! We'll see…
I have been playing with My Digital Studio (Stampin' Up's Digital papercrafting software) and it is really impressive. I'm placing an order for some professional printed items shortly — I'll share those when I get them. I have to finish designing a few things.
Well, talking about this list of things that still needs to get done has made me a little nervous! Must get back to work.
If you're looking to get some good deals on some holiday gifts (for you or for someone else), you still have time to take advantage of the Online Extravaganza at
my website
.
Happy Shopping!