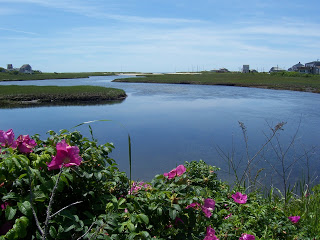 I love nice sunny days (as if everyone else doesn't??! but anyway…) I was inspired to stop the car and take this photo on a detoured trip home today.
I love Dennisport and drove home down Lower County Road and took this picture of Swan River.
I haven't been able to get out and go for one of my nature walks (partially because the weather wouldn't cooperate)… and today I couldn't think of a place I wanted to walk around so I went driving around instead.
However the beach is calling me and I hope to go down to Bank Street Beach later today (after hubby and I take a visit to the Dog House in Dennisport for Lunch… YUM!) and soak in some of this infrequent, and only temporary sunshine!
Of course, that is under the condition that when I get back tonight I need to buckle down and get some work done! I have two clubs to prep for next week …
Enjoy the sun!