I have a scrapbook page to share with you today for the first day of the Summer Mini Catalog sneak peek.
The new Summer Mini Catalog goes live on May 1 (Saturday) and has some really great new product that is sure to get your creativity fired up.
The stamp set I used on this scrapbook page was a "must-have" for me when I went through the new mini.
Those of you who know me, know that we love to travel. And this line is perfect for me. The stamp set is called Sentimental Journey and it has coordinating Designer Series Paper called Travel Journal. It's super cute and could actually be used for other pages as well such as talking about the journey of growing up, finding your path in life or documenting a road trip.
What I also love about this line is the new 6 X 6 coordinating album that is available. It would make creating a mini-album about a favorite location or trip super easy!
Here is a close-up of some of the stamps from the Sentimental Journey set. I used them on Pumpkin Pie cardstock with versamark ink to give it a watermark look.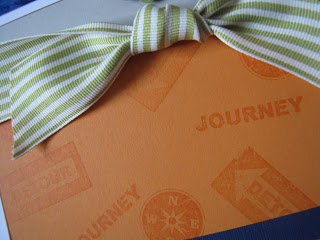 I got the idea for this background from a new product training video on the demonstrator website — just another perk of being a Stampin' Up demonstrator (not to mention that I'm already playing with these products and the catalog hasn't even gone live yet!).
So would you like to see the completed page? Of course you would! Here it is: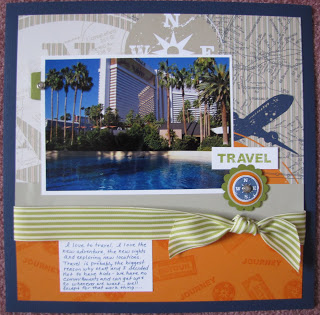 It's fairly simple. I was really trying to feature the new designer series paper prominently. The journaling reads:
I love to travel. I love the new adventure, the new sights and exploring new locations. Travel is probably the biggest reason why Matt and I decided not to have kids. We have no committments and can get up and go whenever we want… well, excpet for that work thing…
I hope you enjoyed this sneak peek … be sure to stop back tomorrow for some more new products from the Summer Mini Catalog. Don't forget, a new mini catalog release means we have to say goodbye to the
Occasions Mini Catalog
, which was also chock full of goodies. Be sure to order any last minute must-haves by the end of the day on April 30.