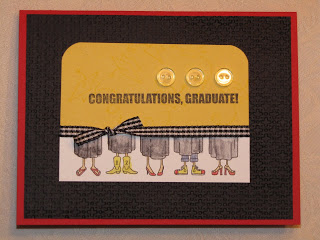 Well I made it today by the skin of my teeth! It's 11:28 and I've just now finished making a card for Day 3 of sneak peek week!
It's a super simple card as I was working well into the night again today! Ugh… but the good news is that I've worked so many hours this week that I am off tomorrow! So tomorrow's post should be much earlier (although I do need to do some housework!).
Anyway, on to the card. I think I put this together in maybe 15 minutes (I had a vision in my head as I was trying to fall asleep last night — love when that happens!).
So I used the new stamp set called Go, Graduate. It's very cute… I'm not normally one to buy graduation stamp sets, but this one was just too cute and I do have a niece that will be graduating soon (well, not until next year, but hopefully this set will stick around!).
I used the textured impressions folder Square Lattice again. I absolutely love that thing. It adds so much to a card so even a simple card like this looks great! I colored the little grad feet with a blender pen and ink pads (don't look too close as my coloring in the lines apparently gets a little wonky after 11 p.m.!).
I also include three of the ADORABLE bitty buttons. They come in three different shapes and actually have matching punches to coordinate! So, so cute. It also has a matching stamp set called Itty Bitty Bits. Very fun.
I think you are really going to love this new mini catalog! I can't wait for you to see it. If you aren't already on my mailing list and you don't already have a demonstrator feel free to give me a shout. I'd be happy to send you a copy of this new catalog. It's a good one!
Well, I'm off to get some shut-eye (I hope– the insomia has come back a bit this week). Be sure to check back again tomorrow for more goodies… I'm shooting to have a new post up by noon…. but if not shortly thereafter. (I have to clean my stamp space first as I've made such a mess I only have a 3″ x 3″ square to work in!!!).
Talk to you tomorrow… nighty-night!