Hello everyone! Happy Monday… we're getting ready for another snow storm here on Cape Cod. Are you ready? I'm really not, but perhaps I'll get to work from home in my pjs on Wednesday… that would be nice! 🙂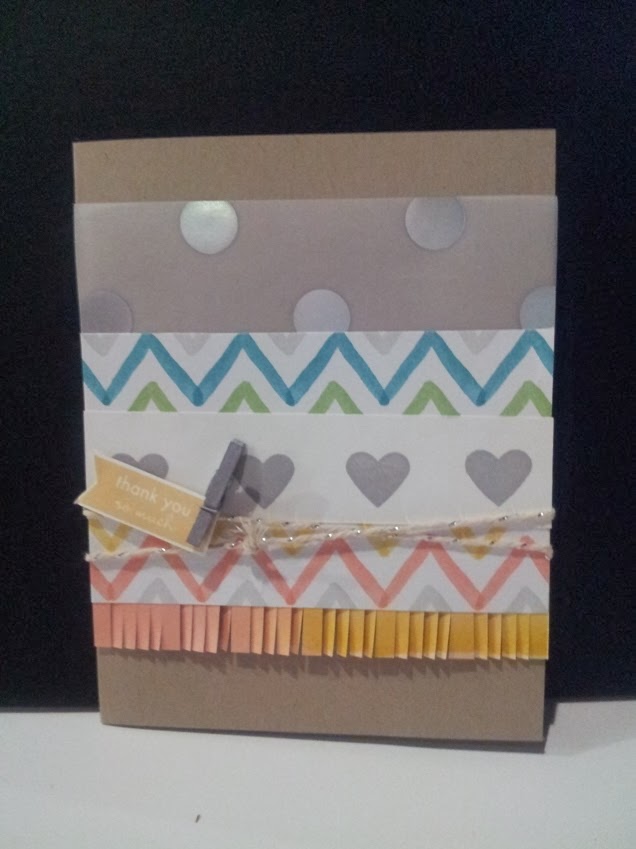 So I hijacked the card to the left from the Stampin' Up corporate blog. You want to know why? Well, I made it and it's being featured on the SU blog along with 19 other cards by some amazingly talented demonstrators. At Leadership 2014 Stampin' Up hosted "Paper Pumpkin Craft Wars." They had a few tables set up in the Demonstrator Resource Center. One station had the pre-cut card bases, designer series paper and embellishments. The other table had all the exclusive Paper Pumkin stamps, ink pads and some Stampin' Trimmers. They gave us 15 minutes and we had to create a card with what was on hand. I have to admit it was very overwhelming (most of the DSP was still in 12 x 12 size… it takes a lot of convincing on my part to cut into a new piece of 12 x 12 cardstock… something I struggle with nearly every day! 😉 Anyway, once I got going I was ok. I never expected to be picked as one of the winners (remember there were 1,000 demonstrators at this conference!). But it was very exciting to have my name up on the Jumbotron!
You can see the whole post on the Stampin' Up blog, including the other 19 cards,
here
.
That is one of the real values of Paper Pumpkin. While you only make a few of the projects in the kit, you can use those ink pads and exclusive stamps all year round. Now you have 20 different cards you can copy if you are already a subscriber to Paper Pumpkin.
Not a subscriber yet? If you join before February 10, you'll get a free pack of 2012-2014 In Color Markers in your starter kit. Here's How it works: Your starter kit includes a clear "C" size block a mini ink pad and stamps to create four cards. Then the following month you'll receive that month's kit. You'll receive an adorable little box of goodies each month, but you can cancel or skip a month at anytime. I really love the little surprise in my mailbox each month… and it's so nice to have a project all cut, prepped and designed for me! I often don't create it "as is," but "fancy" it up a bit with some of my existing product. It's a great creativity launching point.
Interested in trying it out? Visit
www.mypaperpumpkin.com
to sign-up. If you don't already have a demonstrator I'd love if you selected me (Jen Pitta)!
That's all for today… stay warm!