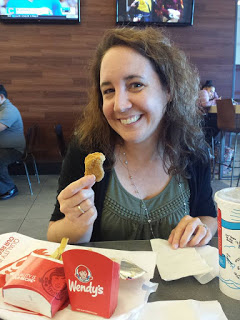 I don't even know where to begin to document my four days in St. George, Utah for Stampin' Up's annual Founder's Circle Event. It's an exclusive all-expense paid trip to southern Utah for the top 100 demonstrators in the country. And I am still pinching myself that it actually happened. It was a little bittersweet as this was the last year to earn this incentive event so it was my first and last time to Founder's Circle.
Even so, it was truly a once-in-a-lifetime event. I'll admit it got off to a little bit of a bad start. This picture was of me on Wednesday evening. I was supposed to be joining my fellow achievers at a pool-side party to celebrate our achievement. Unfortunately, my plane got delayed in Providence so I didn't make it in time to catch the bus to St. George so I had to wait for a shuttle to take me instead. Fortunately, the wonderful Jennifer Kruse stayed with me (I wish I got a picture with her!!) and I arrived to the hotel just in time for the first timers meeting, where we each shared what we thought we did differently that got us to this point in our business. It was really fun to get to know these other "newbies." In fact, there were 14 of us that earned Founder's Circle for the first time this year.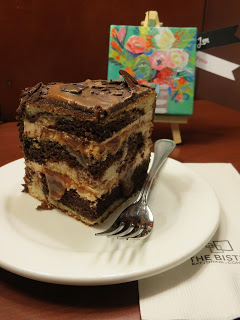 I can't even get over how awesome everyone was… it was not "clique-y" at all. Whether it was their first or 14th (yes, there were actually two demonstrators who have earned the trip all 14 times!) time at Founder's Circle they were so welcoming and willing to share. I just wish I had more time to spend whether everyone so I could have met and chatted with each and every person.
The friendships and networking were really the best part of this trip, but boy does Stampin' Up know how to spoil you! After the first timers meeting I came up to my room to find this HUGE piece of yummy chocolate cake and my hand painted "place card" from the pool party table. I guess they thought I needed some extra chocolate after the long day I had! 🙂
Of course, every night of Founder's Circle includes a little pillow gift, too! It's so fun to go to bed each night to race upstairs and find what is waiting for you. For night one it was a bag of goodies from the not-even-released Occasions catalog. I can't show you what was in there, but this is a picture of the presentation…
Isn't it cute? The hotel was awesome, too. We stayed at the Courtyard Marriott in St. George, Utah. I would definitely recommend you stay there if you're ever there. It was a great hotel and they were so sweet. The housekeeping staff left us little notes each night (whenever they switched housekeepers) and when we left the management even gave us a little "pillow gift!" It was a cute little key chain flashlight and chocolate.
My claim to fame for the whole weekend was being "the one who came late" as apparently they announced me as a first timer at the pool party, but of course I was not there to stand… it's okay, though, it was a great ice breaker! Here are a few more photos from my first day in Utah… I'll be back to share more soon.
The first housekeeper mixed up the notes… I had my friend Angela Waters note, she had mine… still a sweet gesture, though! 🙂
Hey look! That's me! 🙂
Hope you had a nice weekend. Today was a pretty fall-ish day here on the Cape. I hope that doesn't stick around yet. I'm not quite done with summer yet!
Before I go, just want to let you know that the October Paper Pumpkin kit will be in an adorable bright pink box and will support Breast Cancer research with every active subscription. Stampin' Up will donate $1 for every active subscriber next month AND $2 for every NEW subscriber to the Breast Cancer Research Foundation. So if you haven't joined, you'll definitely want to! Who doesn't love a fun pre-designed, pre-cut crafting kit in their mailbox every month! Click here to join before the cut-off date, October 10.