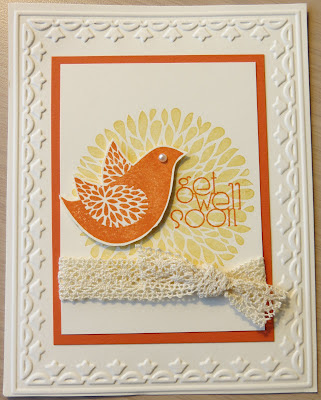 Howdy, blog friends. Happy Monday — It always bothers me when I type that — I don't know why I always say it!! Monday is by far my least favorite day.
Anyway, I digress. I'm back today to share another one of my swap cards from Convention 2012. This one is pretty simple, but I like it — and it proved to be one of my more popular choices when I gave other demonstrators the option between this one and my other designs.
Remember if you see anything on this card that you'd like to have for your own stash, feel free to visit my online store where you can shop 24 hours a day and have new goodies delivered right to your doorstep!
I had wanted to get a photo of some of the ladies swapping cards when I was at convention, but my battery was dying the first day I arrived to convention and I couldn't find my charger (in fact, I still can't find it!) so I had to be very selected about what I took photos of and alas I forgot about the swapping photo. Actually, as I'm typing this, I think I had one from Convention 2008 –the first year I went: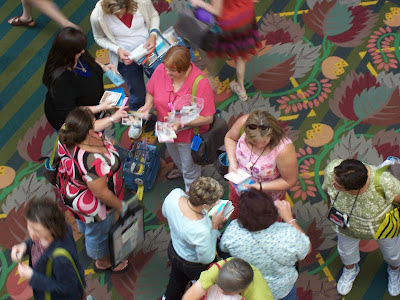 While, I'm sharing photos from 2008 — I took another one that year that I thought was really telling.
Now before I upload this let me tell you that if you don't like crowds, don't let this photo scare you — yes, it is A LOT of people, but you'll notice I took it from above… I tend to stay out of the masses until the general session doors open and then I don't have to deal with the huge crowds because honestly being small… I don't enjoy large crowds all that much — it's generally just a sea of armpits for me! lol…
Check this out, though: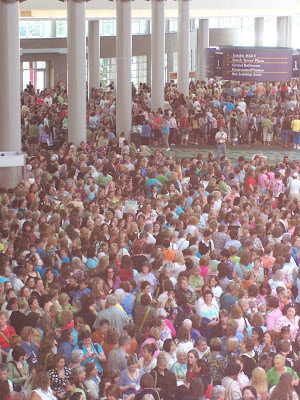 Crazy, huh?
Well, enough of my blabbering… here is a list of the products I used for the swap card I shared today:
Stamp Set:
Betsy's Blossoms, 126004, $28.95 (w); 126006, $21.95 (c)
Delightful Dozen Stamp Set, 122650, $32.95 (w); 122652, $24.95 (c)
Cardstock:
Very Vanilla, 101650, $8.50
Tangerine Tango, 111349, $6.95
Ink:
Daffodil Delight, 126944, $5.95
Tangerine Tango, 126946, $5.95
Accessories:
Framed Tulip Embossing Folder, 121809, $7.95
Big Shot, 113439, $99.95
Victoria Crochet Trim, 118481, $6.95
Pearls, 119246, $4.95
Stampin' Dimensionals, 104430, $3.95
Ok… one last thing to share before I leave you for today…. I braved the crowds this year and it actually wasn't that bad! Want to know what it feels like to experience the anticipation and excitement of the first general session of convention? Check out
this video
on my
Facebook page
(and be sure to "like" me if you haven't already!).
Thanks for stopping by… and see you soon!