Happy 2009!
I hope you had a more exciting start to the New Year than I did… I was in bed at 11:15 and slept right through the start of 2009. Oh well, at least I started the New Year well-rested!
On New Year's Day my family always celebrates the New Year at my Mom's for a buffet style dinner and this year I made her a happy New Year squirrel card, which she promptly added to her file folder dubbed "The Squirrel Sagas".
O.K. so I have to back up a bit here. When I was a kid I used to have an imaginary blue squirrel that I brought everywhere. Even though this squirrel was imaginary, he and I managed to get ourselves into a lot of trouble. I once "tripped" my mother while she was carrying a full load of laundry across the living room because I screamed, "Mom, look out!". So naturally she thought she was going to step on me, our dog, or perhaps some dangerous toy left hanging around. Well, in her attempt not to trip over whatever I was screaming about, she tripped herself and down she went — along with all the nicely folded clothes!
Meanwhile, I walk over and pick up this imaginary blue squirrel and begin petting it as I tell her you almost stepped on my squirrel! Mom was not too happy about my imagination at this point.
On another occasion I began screaming my head off when my Dad closed the door of the car. Not knowing what my problem was, he looked at my Mom for some help. She wasn't too clear why I was having a fit either, but I evidentally indicated they should open the door. So my Dad opened the car door and lo and behold the screaming stopped. You see, the squirrel's tale was caught in the door!
So having explained all this, now you know why when a couple of years ago when Stampin' Up introduced the Super Squirrel stamp set, I had to have it even though most other demonstrators were not a fan of this quirky stamp set.
Well, now the Blue squirrel makes regular appearances at my home — and he's no longer a figment of my imagination! See for yourself: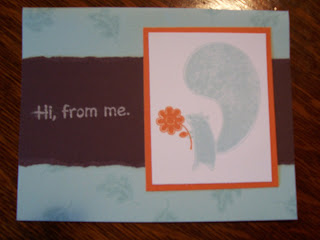 The original card(above) … and the many more that followed (below):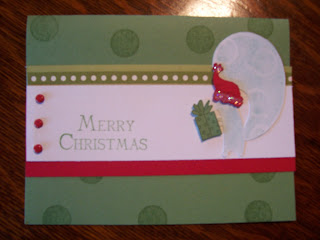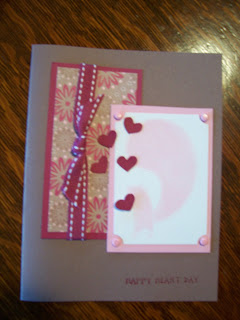 (I know, he's not blue in this one. But it's very hard to work blue into a Valentine's Day card!)