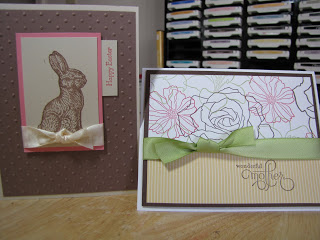 Just "hopping" on today to remind all of my blog readers about a spring card class I am hosting on Thursday (Feb. 25) at the Chatham Community Center.
Class attendees will make 10 cards for $18 (2 each of five designs, includes envelopes). This class will feature Mother's Day, Father's Day, Easter, St. Patrick's Day and a Birthday card.
Don't worry if you've never stamped before. These cards are very simple and I will provide complete step-by-step directions.
The class runs from 6 to 9 p.m. and you work at your own pace. You may stay the entire three hours to finish your cards, but many people don't need that much time.
If you'd like to register for the class please call the Chatham Community Center directly at 508-945-5175 or e-mail swinkfield@chatham-ma.gov.
Hope to see you there!