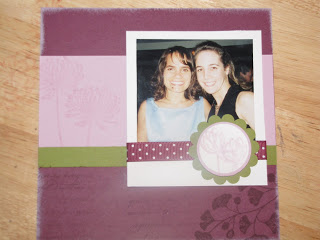 Hi All! Happy soon-to-be Friday (it probably is Friday by the time you are reading this!). I just got home from a workshop (Thanks, Missy!) a little while ago and was too "wired" to go to sleep. I LOVE doing workshops,
hangin
' out with the girls, making some crafty things and
gossipin
'. Such a fun girls' night out — you should TOTALLY do it some time ;o)
I thought I would share another one of the projects we did tonight… I always try to include a 6 X 6 scrapbook page in all my workshops to entice any of those professional or would-be scrappers that happen to be in
attendance
….
So the above scrapbook page features the new Level 3 stamp set called Kind and Caring Thoughts. It has TONS of word sentiments plus some stellar images. It also features me and my buddy Kim… love her!
I love the Rich
Razzleberry
cardstock
(the background color) — it is one of the new In Colors (new "trendy" colors released once a year) for 2009-2010 and it goes great with the Pale Plum don't you think?
I still have some dates available for the fall and I'm telling you, you don't want to miss out on the new Holiday Mini (I'm just
sayin
') :o) And don't forget you qualify for hostess benefits with any $150 order or more (all on your own … it doesn't have to be submitted as part of a workshop).
I just
pre
-o
rdered
some more goodies from the new mini and it should be arriving early next week… so keep checking back for some sneak peeks….
Thanks for stopping by and TGIF!