I've just arrived back from Salt Lake City for the Stampin' Up convention called OnStage. I always love going to SLC, as it feels sort of like a "home away from home" after going to nearly 10 events there. It's such a beautiful city and it made it even more fun that I got to see the upcoming Occasions and Sale-A-Bration catalogs AND share it with one of my Shore Stamper team members, Donna (hi Donna!)! More info about those catalogs as we get closer (they don't go live until January), but we also got word about another exciting development…. the Stamparatus!
What is the Stamparatus you ask? It's only going to be the BEST stamp positioning tool on the market! Check out this video to learn more about it:
Pretty amazing, right? Since Stampin' Up does 2-step, 3-step and 4-step stamp sets so, so well, this tool is going to be so amazing in your craft room! I promise… you're going to *need* this! Here are some of the features of the tool:
Compatible with Stampin' Up!'s red rubber and photopolymer stamp
Foam mat to use with photopolymer stamps
Rulers and gridlines for quick measuring
2 open sides so you can stamp on larger paper
2 reversible plates: a total of 4 surfaces to work with
2 magnets to hold the paper in place
Magnet storage areas
Retail Price–$49.00 USD/$65.00 CAD
So how can you get your own Stamparatus? Well, Stampin' Up is doing something a little different with this one… because only a certain number of tools can be made at a time, we're going to be accepting "pre-orders" for the tool beginning this Thursday, November 16.
CLICK HERE
on Thursday morning to reserve your Stamparatus. You'll need a credit card to reserve, but it won't be charged until the tool is available in early February 2018. Then it will be sent right to your door (maybe even in time to mass produce some adorable Valentine's Day cards!).
You're most definitely going to want one of these… so be sure to reserve yours as soon as you can on Thursday (
join my email list
and I'll send you the link first thing!). But don't worry if you don't get in on that round… there will be another reservation window in early December with shipping beginning in mid-March.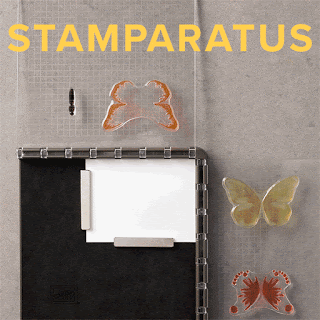 Okay… even though I'm just recovering from an amazing trip to Salt Lake City (where I placed #60 in the top 100 U.S. demonstrators and #109 in the GLOBAL top 100!! Woot, woot!), I must get back to work preparing for my bi-annual four-day crafting weekend here on the Cape. I have 63 ladies joining me for a full weekend of crafting fun… be sure to check out
this link
if you want to find out more about these events!
Until next time… happy stampin'!
xoxo
Jen