Hi all! I managed to squeek out a couple more scrapbook pages late last week in preparation for my Scrapbooking 101 class I held at the Harwich Council on Aging on Friday.
I made these two scrapbook pages, plus the other three posted here and here and here all using the Happy B-Day Simply Scrappin' kit.
I could probably make two or three more layouts using that same kit, too! Lots and lots of supplies in those kits to make both scrapbook pages and cards.
So on the layout above I was actually catching up on a layout I started hmmm… 9 years ago! I know, bad. You can see that two of the photos are cut into ovals because those were the days when I was all about cutting all my pictures into shapes… and you know what, I really like how the page came out! I popped the two oval pictures up using stampin' dimensionals and did a bit of distressing around the certainly celery background paper.
The second page I did is of my nephew's fourth birthday party — he turned 13 this past weekend… so no worries if you are behind a few years ;o) I've actually stopped scrapping chronologically — and now I just work on what speaks to me… It's very freeing!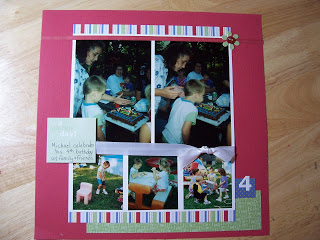 Fairly simple page — I like to do at least one birthday party page for each of my nephews and my niece – well for at least as long as they had family b-day parties. It's the one time I really don't stress about writing fancy journaling! :o) This one just says, "Michael celebrates his 4th birthday party with family and friends" Ta-Da! Easy-peasy….
Hope you have a great day!