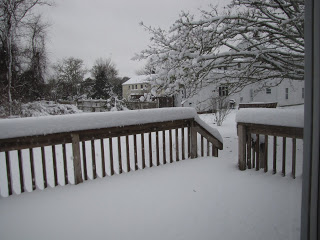 As much as I hate snow, I'm a little thankful for it today.
I actually started a new job this week, which is great and I think I'm really going to like it. My first day I got three dozen cookies as part of cookie swap that I wasn't even part of and my second day… I got the day off! (Those are not the reasons why I think I will enjoy it, though! lol)
I have to say that as excited as I am to be learning new things and enjoying my new role… I'm a little bit more excited to have an unexpected day off to get a few things accomplished.
One of my "things to do" today will include some simple play time. I got some new products from the upcoming Occasions mini catalog and I really haven't had much time to play with it. I also hope to do some planning for some upcoming classes at the same time — wouldn't that be a shocker for me to create projects BEFORE the day before the class? lol.
I also have "nap" on the to-do list — that has to be one of my favorite things to do. I love taking a nap in the middle of the afternoon… there's something rebellious about it! I know, I'm a little strange… but what can I say? Nothing, really.
I do have a little sneak peek to show you today, too. This card was actually a make and take we made at my last meeting of local Stampin' Up demonstrators. This card uses a new stamp set called "Nature Walk" and new paper called "Springtime Vintage." For those of you in the Northeast, I thought you might enjoy a bit of Springtime 😉
Well, that's it for me… I'm off to stamp and nap the day away!