The long awaited "sneak peek" at some of the new In Colors and products from the new 2009-2010 Stampin' Up! Idea Book and Catalog is finally here! I had a little time this evening to play with some of my new goodies and made a scrapbook page celebrating the arrival of summer!
"At Last" features the new Rich Razzleberry and Crushed Curry In Colors and also uses the new stamp set Razzle Dazzle. The ribbon is also new and is reversable with polka dots and one side and plain on the other… I love how it looks when you tie it in a knot!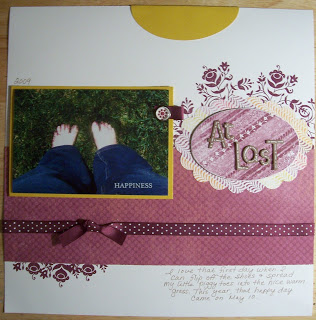 Journaling reads: I love that first day when I can flip off the shoes and spread my little piggy toes into the nice warm grass. This year that happy day came on May 10.
I'm scheduled to receive the rest of my new sneak peek items on Thursday. So hopefully I'll have some more crafty goodness to share with you this weekend.
Here's a couple of close-up photos, too….