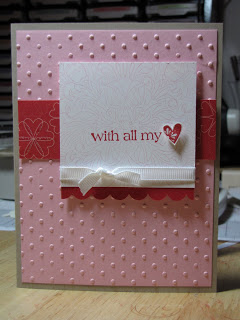 Ok… so I've FINALLY had a few minutes to sit down and play with some of my new goodies from the Occasions Mini Catalog set to be released on January 5. (Those of you on my mailing list should be receiving it in your mailbox sometime this week if you don't have it already!)
The best part about this new catalog is that it is being released in conjunction with the fabulous Sale-A-Bration promotion offered by Stampin' Up! So for every $50 you spend from the new catalog (or the big catalog) you receive a free Sale-A-Bration item or, new this year, you can choose one of numerous stamp sets tagged in the 2009-2010 Idea Book and Catalog as part of the Sale-A-Bration promotion … very fun!
Anyway, this card features four new items from the Occasions Mini Catalog including the "With all My Heart" stamp set, the fine flourish stamp (the background on the white cardstock), the new glitter Designer Series Paper called Sending Love (very pretty) and the new Polka Dot Textured Impressions folder — I love those things! So easy and fast!
Anyway, I've got a few other cards up my sleeve from today's crafty session — and hopefully I'll get some time to play some more — so I'll have lots of sneak peeks for you this week — so be sure to check back often. Feel free to leave me a comment or two about what you like, too — I'm curious what all of you think of some of the new product….
Thanks for stopping by!