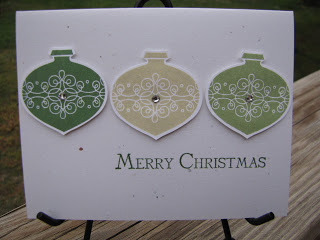 Happy Sunday! I'm really looking forward to a day where I don't HAVE to do anything… just relaxing with hubby — maybe a little road trip or something — who knows!
This is the last card I used in my first Holiday Card Class last month. I actually cased it from a fellow demonstrator (sorry, I can't remember where I saw it to provide the name — if it's you, e-mail me and I will give you credit here on the blog-o!)
I love the simplicity of this card, but it is very festive! I actually changed the colors from the original — but I really like the monotone feel.
Supplies for this card were really simple — naturals Ivory cardstock, Tags til Christmas Stamp set (Holiday Mini), Many merry Messages, ornament punch and Rhinestone jewels. So simple! I love it….
Can you believe it? I've made it a whole week with a post EVERY day! Thanks for continuing to visit — don't forget to leave me comments if you'd like to win a crafty care package at the end of the month!