So I finally had a minute or two to play with some of my new toys and this is what I made!
It features almost exclusively new product from the colors to the Designer Series Paper to the stamp set. It actually features six new products… can you guess what they are?
I mentioned in my last post that I'm very excited about the new catalog this year. I don't know if I'm just ready for a change or what? Really, I think it is the new color families… the samples in this catalog are gorgeous. I've already marked several that I want to copy!
I also stamped the inside of this card as well. I've been trying to get in the habit of finishing the insides of my cards as I really want to get an online Etsy shop up and running. I had one over the winter, but I really didn't put any time into it and the listings all expired.
Maybe I'll try again later this week… not sure if I will get to it though. I've been in a major photo re-organization project this week. I've sorted through and filed all my photos from the 70s, 80s and 90s… all I have left is the 2000s and I have LOTS of photos from the past 10 years as the year 2000 was actually when I became a scrapbooker and started focusing more on taking photos! Hopefully I can finish up before the end of next week.
Here is the inside of the card (in case you were interested):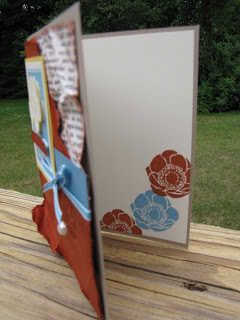 Well I'm off to get some more work done today (perhaps tackle a few more photos???). I hope you enjoy your weekend. Thanks for stopping by!