Howdy. Happy Easter weekend. I hope you have plans to spend the weekend surrounded with friends and family.
I've actually had this page that I'm going to share with you today done for a few weeks. I had been dragging my feet on posting it because the photos I took were not the best.
However, tonight I just decided that enough with my dawdling (is that how you spell that or did I just make up a word?)… just post already! So here it is. Part 4 of my scrapbooking with stamps series. This one focuses on using stamps to create journaling cards or spots for your pages. I love the pre-designed cards that are designed for you to just scribble out your journaling and plop it on a page… like
this
or
this
.
With this technique, you can use your stamps to create your own journaling tags, which in turns adds to the value of owning your own stamps. For this page, I used the
Rue Des Fleurs
stamp set from the
Occasions Mini Catalog
to stamp the edges of my very vanilla cardstock. I used a light color so that if necessary, I could write right on top of the stamped images if I found I had a lot to say. Or if you prefer you can just stay "within the lines" of the stamped images.
Here is a picture of the whole two-page layout: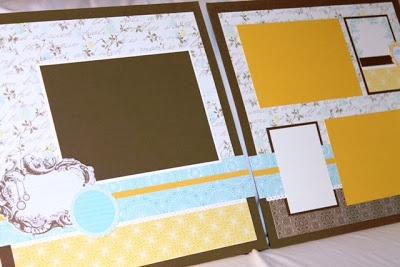 Sorry, this is the photo that's not so hot, but I think you get the idea. It uses some of the Attic Boutique Side Notes on the left hand page and then my hand stamped journaling spot is on right hand page at the top. I used a combination of both pre-made journaling spots as well as a personalized one for this page, but you could easily make all of yours using your stamps. Of course, the lovely Side Notes are a wonderful addition to any page.
I am off to snuggle into bed and read my book. Love nights like that – especially when there is no pressure to get up for work in the morning. I did join a gym a couple of weeks ago and I'm committed to going at least three times a week (preferably four) so I do need to get my bottom over there tomorrow to keep my promise. Here's to losing 17 pounds by my birthday in May!
Hope you have a wonderful weekend… perhaps with some stamping or scrapbooking involved!