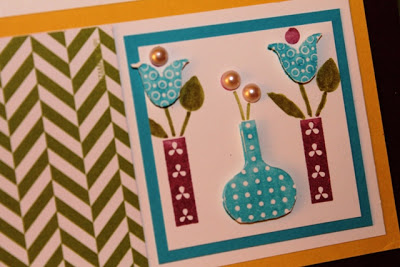 Finally, I'm back with Part 3 of the Scrapbooking with Stamps series. First let me apologize for the less than perfect photos this time around. The lighting when I took these photos was not the greatest.
Anyway, we've talked about using stamps as a background or as a border, but this way is probably my favorite: using stamps as an embellishment.
I don't know about you, but in my 12+ years of scrapbooking, I've bought a lot of little embellies over the years — from flowers and buttons to brads and jewels. Since I've started stamping, though, I love using my stamps to make custom embellishments that match my patterned paper and photos.
On this page I didn't actually slip photos in yet, but I totally see it being a spring-like page — maybe Easter, a nature walk or maybe even a spring birthday page.
Here is the full page: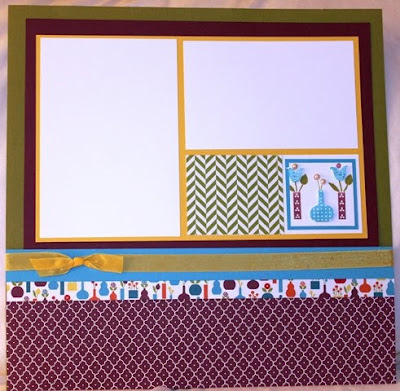 Here I used a sneak peek stamp set called Bright Blossoms and some new wonderful bright and cheery paper (both will be available in April!). The stamp set, paper and some other fun new items are all part of a new line called Summer Smooches.
I used the Bright Blossoms stamp set to stamp three vases and flowers and then popped up the actual flowers using a stampin' dimensional.
There are so many different types of stamps besides flowers that this technique would work great. For instance you could use a birthday cake image on a birthday page, a hand-colored snowman on a winter page or a matted bird image for an outing to the park.
I love that by using a stamp, you can customize the colors and therefore, match your page perfectly. Here I used Rich Razzleberry, Tempting Turquoise and Old Olive to match the colors in my paper. I, of course, had to add a few pearls as well… every page needs a little bling, right?
If you'd like to learn more about scrapbooking with stamps, continue to stalk, I mean visit, my blog or
e-mail
me to schedule your own private class on scrapbooking. I started as a scrapbooker and I'm really passionate about the importance of preserving your memories so I really love to do scrapbooking classes!
Have a great weekend and thanks for stopping by!