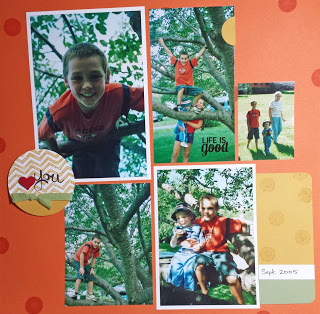 Hello, hello friends! So I'm back again (for day four in a row!) and I wanted to share with you some more tips for using your stamps in your scrapbooks. First let me start by apologizing again for the poor photo… I tried to fix it, but let's just face it yesterday was not a good day for taking photos (rainy = dark!). I did try and lighten it up for you, but then I made it a little crooked, but I still think you'll get the idea. You're smart… I know this!
Anyway, would you like some more tips on how to use your beautiful assortment of stamps on your scrapbook pages?
Okay… here we go!
4. Stamping ON your photos. Did you know you can use Staz-On ink directly on your photos? See the "Life is Good" sentiment on the upper right photo? Yup. Used my black Staz-On ink straight on my photo. TIP: I would recommend you practice stamping on scrap pieces of photos (you know, the one where you cropped that strange looking person behind Aunt Annie at the picnic? Yeah. That one). The reason why is because photos are slick (a.k.a. slippery) and as you stamp it is very easy to slide and smear your image. So practice, practice practice!
5. Create your own embellishment. See that focal point circle on the left (which is actually my title as well so two for the price of one here…)? I created my own stamped embellishment by stamping a pattern, decorating it with coordinating cardstock and ribbon and the putting my title on top. The best part about this technique? You ALWAYS have the correct color embellishment… and you never run out of them!
6. Make your own (coordinating!) journaling card. See the yellow polka dot paper to the right of the bottom right photo? I just used a small circle stamp, inked it up and then "stamped it off" on grid paper before stamping on the matching yellow cardstock (Hello Honey). That gives a lighter look and will therefore allow you to journal over them. I haven't filled in the journaling on this one yet, but I plan to write (with my fabulous Project Life Journaling pens) on the yellow piece of cardstock (above the white border). Perfectly coordinated. Love.
If you missed my first three scrapbooking with stamps tips, be sure to click here. If you want to order any cool Stampin' Up products, click here. And guess what? If you live in Massachusetts, this weekend is a Sales Tax Holiday — you can shop on Saturday, April 15 and/or Sunday April 16 with no tax! Yippee!
Thanks for stopping by… I probably have more to show you so don't go too far! 🙂