At the beginning of the year I had set a goal for myself to complete 6 scrapbook pages per month. Well, the results are both good and bad.
On the good side, the little quota I set for myself has increased the amount of scrapbooking I do each month (having a lot of workshops where I demonstrate progressive scrapbooking has helped, too!). Sadly, though I have still not hit the six page requirement yet (that's the bad side).
I've come close. I completed 4 and 1/2 in March. How do you have a half of a scrapbook page, you ask? Well, I laid it out. Continually looked it over day after day for about a week and I just couldn't commit to it (I hadn't taped anything down) so I packed it all up and put it in one of those scrapbook page folders and stored it under my table for a new day. I know, I know. I should just pull it out, tape it down and call it done, but now it is just principal.
I will evenutally probably do just that, but for now it remains in limbo.
At most of my workshops I always demo how you can take a 6 X 6 scrapbook page and turn it into an 8.5 X 11 page and then into a 12 X 12 (also known as progressive scrapbooking).
So the above page as an 8.5 X 11 looks like this:
And finally as a 12 X 12 page it looks like this:
To see any of the photos a bit closer you can click on the image, which will display it larger. These photos were taken last year at our Fourth of July cookout. We always put out a little pool in the backyard for the kids even though most of them are really too old for that kind of pool.
Well, needless to say when you give a bunch of kids access to water on a hot summer day a water fight is generally the outcome. And of course when you have a bunch of "big" kids that are also members of the family this is what generally happens:
And, of course there is retaliation… so this is what happens next: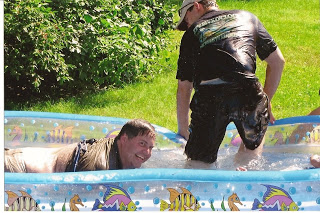 But that's a whole different page! :o)
Thanks for stopping by!