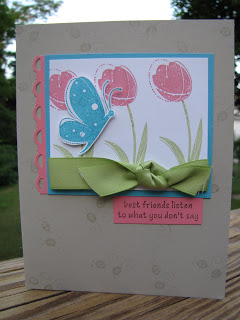 In less than two weeks we'll say goodbye to some of our favorite Stampin' Up stamp sets… including this one called Garden Whimsy.
I know it is inevitable each year that I'll have to say so long to a few of my favorites, but it doesn't make it any easier. So dramatic, huh?
Honestly there are so many great new stamp sets and items in the new catalog that in another couple of weeks I won't even remember the names of the sets we lost. BUT if there is a stamp set or two you just have to have be sure to get it now before time runs out. You can see the list of retiring stamps
here
.
To see what is left of the retiring accessories shop in my store
here
. Some of these items including retiring cardstock, ink pads and ink refills are going fast.
In other news, I'm making a new start of my own with a new job that I started yesterday. I'm officially no longer a reporter and instead I am a rental agent. I think I will really like it… although it is Saturday and I will soon have to get ready to go to work — so that will take an adjustment. However, it is only for the summer… and I must say I do like having a day off during the week — I feel almost rebellious sometimes when I go grocery shopping or to the beach or something in the middle of a weekday! (I know I'm such a rebel…. lol)
Well that is all for now… I have some other projects to share some come back soon! Have a great weekend and thanks for stopping by….