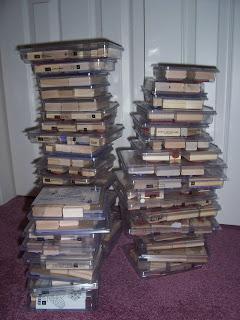 So here is the pile of stamp sets that I own that will be retiring as of July 1! Quite the pile, huh? I believe it is 28 stamp sets plus extra Sale-A-Bration leftovers and all the hostess sets.
As most of you know, after the first of July I will offer my customers first grabs at these beauties before shipping them off to be sold on e-bay.
This year, I'm going to have a "Get the Scoop" event for my customers, where they can rumage through the retired sets (and possibly some other retiring goodies), thumb through the pages of the new 2009-2010 Stampin' Up Idea Book & Catalog AND enjoy a bowl of yummy ice cream (hence the "get the scoop" theme).
I'm planning the event for Thursday, July 2 (as long as my box of new catalogs shows up in time!) at 6:30 p.m. at my house. I would like to have a count of attendees by Friday, June 26 so I can prepare. So if you'd like to stop by please e-mail me and let me know.
In addition to the new catalog and retired stamps for sale, there will also be two free make & takes and a new catalog scavenger hunt! It's going to be lots of fun so be sure to RSVP by June 26 to take part….
Have a great weekend!