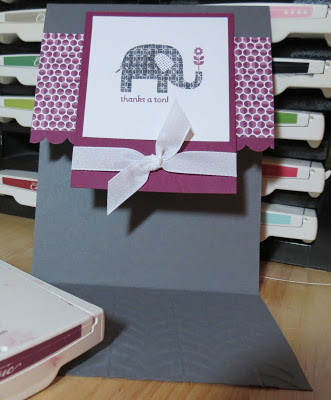 Hello again! Thanks for staying with me for this countdown of Sale-A-Bration cards.
Don't you just love this one? It was a swap from simple card exchange at Leadership in Orlando. It was made by the wonderful Ronda Wade. (Sorry I didn't have a chance to make a sample of my own. It's always great to see other people's styles, though, isn't it?)
I love the fold on this. The front flap is embossed with the Sale-A-Bration Vine Textured Impressions Embossing folder. The stamp is from the Patterned Occasions stamp set — yet another option available for free with a $50 order from January 22 – March 22nd. This set would definitely be one of my first Sale-A-Bration items to scoop up.
The sentiment says: Thanks a ton! Cute, huh? I don't have the card in front of me right now so I will update this post tomorrow with the measurements of this card because I know you're going to want to make one of your own! In fact, you could make this type of card for every stamp in this set — it would make a great gift or a simple way to get a bunch of cards on hand for any last minute card need you may have.
Just two more sleeps until Sale-A-Bration starts!! Need a brochure? E-mail me and I'd be happy to get one in the mail to you pronto!