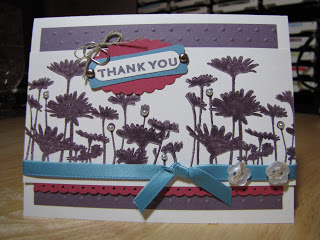 Lately I've found myself thinking numerous times, "Oh that would be a good blog topic." Yet when I sit down to write about these things… it turns into a sentence or two. Not really the blog feature I was thinking of.
Tonight I was browsing some blogs and found myself very inspired on a number of different levels.
Ok.. I guess that's enough randomness for one night. I will say the card I made for tonights post was originally going to be an entry for the Artisian Award. But Miss Procrastinating Patty (that's me, even though my name is not Patty) didn't get her act together fast enough … I decided to enter the contest two weeks before it was due… yeah… just not enough time for nine quality projects! There's always next year…
Well… I'm off to accomplish something. I hope.