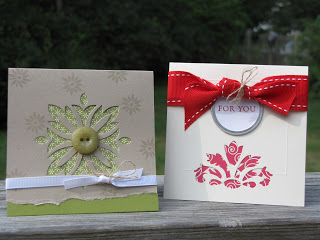 In my most recent box of goodies from Stampin' Up, I had a package of each of the new notecard sets: Pendant Notes (left) and Elegant Notes (right).
I love the ease of these little 4 X 4 cards. The design is already pre-punched in the paper… I just added some designer series paper (Merry Moments) some ribbon and a few embellishments and have two cute little cards to send to friends in a matter of minutes.
The notecards come with 15 cards plus matching envelopes. The Pendant Notes are $8.95 and the Elegant Notes are $9.95. What do you think?
Well, last night I began the scraproom reorganizing project, well, sort of. I took photos of all the areas of my scraproom for the "before" post. Boy is it MESSY! But really, do I want to clean up the whole room with the old organizing system just to tear it apart to create the new system? Nope. So the "before" photos are going to have to be messy! lol!
I will share some of those photos once I actually begin tearing apart the room a bit. I am on a decluttering kick these days… I'm so DONE with the little piles and slips of paper everywhere!
Thanks for stopping by and Happy Monday!