Ok, so I spent much of last weekend goofing around with Stampin' Up's new Decor Elements and I must say I don't know why it took me so long to play with these. They are fabulous!
I have so many ideas of what I'd like to do with them now… including repainting my upstairs bathroom and using the Manhattan Flowers on the wall. I used one of the three Manhattan Flower images on the platter below: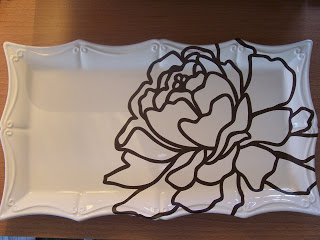 isn't that cool? I LOVE it. The Fifth Avenue Floral stamp set is my favorite anyway and it matches perfectly so I think I'll make some wall hangings with that set and then coordinate them with the decor elements. Piece of cake!
I also played with the Eastern Blooms pieces… here is a bathroom canister with one of the smaller flowers on it — I demo'ed this in a workshop and they loved it — it's super easy!
Cute huh? One other thing I played with was the small versions of the Inspiration words (Life, Love, Faith and Hope) and I used "love" on a glass picture frame I bought at Home Goods… (Don't mind the picture — it's a little blurry, but you can see the Decor Element clearly)…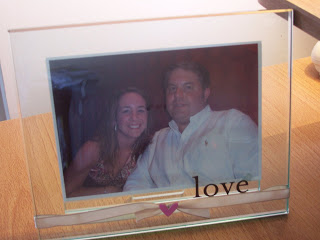 I used a small chipboard heart inked with pink passion craft ink and kraft colored tafetta ribbon to embellish the frame. It's going to find a home on my desk at work….
Well, I'm off to try and put up a large flower image on my wall… but first I have to clean the room so it might be a while ;o)