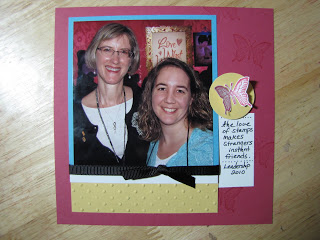 Hello there my blog friends! So I had been waiting to post to the blog because I wanted to share a card for a change, but I just haven't had a minute to download some photos I took this week.
Of course, I can't post without sharing a little eye candy so I figured I would show you ANOTHER progressive scrapbook page.
I did very well in March with getting some scrapbooking done since I had five workshops. This is is actually a page I did for an April workshop. This photo was taken at Leadership 2010 of me and a new stamping friend I made while I was there. Her name is Susan and she was fabulous! She even ditched her friends at lunch one day so that I wouldn't have to sit by myself (not that I would have really sat by myself as everyone is so awesome and inviting — I would have just sat with a different new friend!).
The journaling reads, "The love of stamps makes strangers into instant friends." And at convention or Leadership it is so true! You have never seen a crazier bunch of women. lol!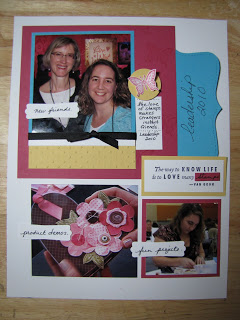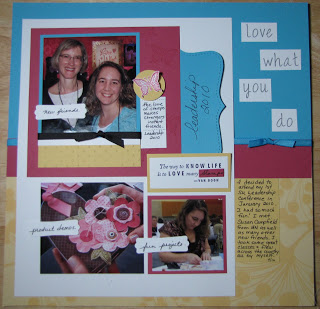 Well I think that should be it for progressive scrapbook pages for a little bit. Check back soon though as I hope to have some cards that I've made recently. And don't forget that starting on Monday, April 26 I will start featuring items from the new Summer Mini Catalog that goes live on May 1.
I'm off for a very long day today at work, but fortunately I'll be spending Friday with a very good friend for a "girls day." I can't wait…. Let's just hope today flies by!
Thanks for stopping in!