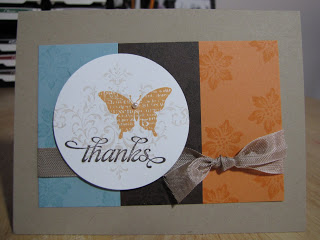 Hello there snow. Again. It has been a very snowy winter — although the Cape keeps getting missed a little bit with it usually turning to rain.
Usually I'd be happy with that… but occasionally it is nice to have a snow day 🙂
Today I have two cards for you showcasing a color combo I found on line that I absolutely LOVE!
It is Crumb Cake, Peach Parfait, Early Espresso and Baja Breeze. Yummy, huh?
This is a very simple card , but I love the layering of stamps on the large circle. It of course uses Bliss again with the large filigree stamp in the background in Crumb Cake and the butterfly on top in Peach Parfait. That is actually a new In Color and I don't know why I haven't used it more often… it is definitely on my re-order list.
My second card is also fairly simple, but it features our new beveled windowpanes that are so very fun!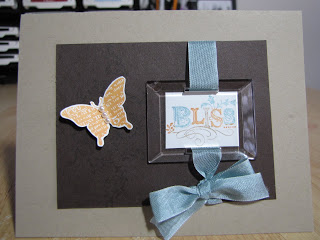 It's hard to see in the picture, but I stamped the filigree image in Early Espresso this time on the Early Espresso cardstock — giving it a subtle tone on tone look.
Then I added another butterfly and some pearls and the "Bliss" word image under the windowpane. That's it!
If you wanted to order the supplies for both of these cards you could earn the "Bliss" stamp set for free… check it out:
Getting Started Cardstock Collection, $6.95 (120954)
Early Espresso Classic Ink Pad, $5.95 (119670)
Peach Parfait Classic Ink Pad, $5.95 (119783)
Baja Breeze Marker, $3.50 (120965)
Crumb Cake Marker, $3.50 (120967)
Baja Breeze Seam Binding Ribbon, $6.95 (122331)
Beveled Windowpanes, $7.95 (121881)
Pearls, $4.95 (119247)
Snail Adhesive, $6.95 (104332)
Bliss Stamp Set, FREE!