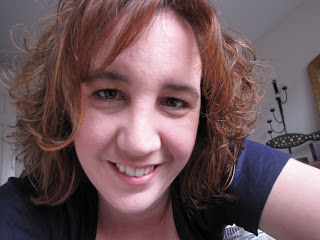 So I promised I would update the blog with a photo of the new 'do when I had showered and made myself a little more presentable… well, I'm not sure if I'm any better off than this morning (lol!), but here it is… the debut of the new 'do.
What do you think? I personally really like the red in my hair — you actually can't see it really well in this photo…
I'm not as sure about the cut — I think I like it, but of course I don't know how to style it right…
Oh well, maybe I'll try it straight this weekend, too. I just don't have the time to straighten my hair when it is long — so now that it is quite a bit shorter maybe I'll give it a shot. It's got lots of fun layers now so maybe it will be cute straight and a little flippy.
So what do ya think? Maybe I should just stick to sharing crafty stuff, huh? (smile)