Happy Monday (if there is such a thing!)
I have a great new Stampin' Up Deal of the Week for you this week! From now until July 26, Stampin' Up is offering over 30% off the Very Vanilla Hodgepodge Hardware assortment! This is such a great product for cardmakers and scrapbookers…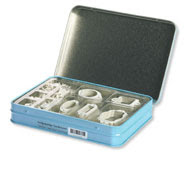 It is usually $29.95, but for this week only you can get it for just $18.99! Click here to order it now.
In other news, I've had some people they've been having problems becoming a "follower" of my blog in order to be entered into the drawing I posted here. So to allow everyone the opportunity to participate, if you can't sign on as a follower, simply either comment on the original blog entery here or if that doesn't work either, just send me an email before noon tommorrow and I'll enter you name into the drawing as well. Remember their are two prizes up for grabs!
Hope to have some crafty goodness to share soon… between the Barnstable County Fair andthe Greek Festival this weekend along with ongoing efforts to dig out of piles of photos, I didn't have much time at the scrap table!
Maybe tonight! Until then…. have a great Monday!