Do you ever struggle with where to begin when you sit down to craft? Staring at an empty craft table or even a blank piece of Crumb Cake cardstock can be overwhelming when you are surrounded by supplies.
The Stampin' Up Idea Book & Catalog is a great resource not just for the best crafting supplies on the planet (in my opinion!), but it can also be a great tool for idea generation.
Today's featured project was inspired by a project on page 18 of the brand new 2018-2019 Idea Book and catalog.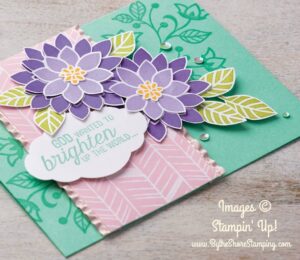 I love the card above in general, but I really fell in love with the purple and ocean blue color combo. So I used that inspiration and added in one of my favorite "ocean" themed stamp sets Magical Mermaid and came up with this: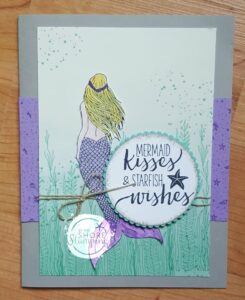 Sometimes all we need is a little starting point to get our creativity flowing. I must say that I think this was my favorite project during New Color Week. How about you? Which project was your favorite? I'd love to know! Comment below!
In the meantime, here is the video for today's project:
New Color Club
Don't forget today is the last day to join Color Club and get yourself these fun color family swatch tags for free with your first month of club!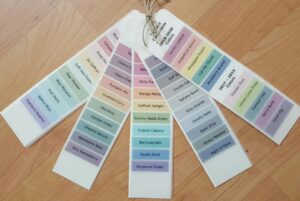 These Color Swatch Tags are going to be such a great tool for crafting — they will help you come up with great new color combos of your own, plus you can use it to compare to patterned paper or cardstock you already own to see which Stampin' Up color would be the best match!
As a reminder here are the details for color club:
The Brand New 2018-2019 Stampin' Up catalog includes 16 new colors in revised color families and a new style of ink pad! Do you want a way to stock up on ink pads, markers and ink refills for these new colors? Then you should join the club…
As a member of Color Club you will receive:
2 new stamp pads, markers and refills each month
A sampling of assorted new embellishments as my gift every month
In your hostess month, you'll also receive a $25 product bonus
A private Facebook group will be set up just for club members to share ideas, projects and ask questions
And at the conclusion of club, you'll also receive a new Stampin' Blends marker combo in one of the new colors
As part of club, you agree to:
Pay $35 each month for your club membership (a credit card or PayPal automatic payment will be required)
Commit to your fellow club members and remain in club for the full 8 month commitment (July 2018-Feb. 2019)
Submit your requested host rewards by the 1st day of your assigned host month
(hostesses will be determined by random drawing)
** Note: if you happen to already own any of the returning In Colors (Mossy Meadow, Poppy Parade, Flirty Flamingo, Coastal Cabana, Mint Macaron or Blackberry Bliss), you will be able to swap it out for a different color you don't already own. You just need to let me know at the start of club so I can make that correction in my files**
Registration for Color Club will close on June 25, 2018
xoxo,